(THE PICKET) – The Rams took down Glenville State in dominating fashion on Tuesday, 104-93, in the Butcher Center.
Shepherd took the lead and held it the entire game, leading the first quarter 27-23, outscoring the Pioneers 26-21 in the second, and 31-28 in third. Shepherd used a 13-5 run to take a control of the game with a 22-point lead at 101-79 after a jumper by Liz Myers with 4:10 remaining. Myers had six points to fuel the run. This game broke the Rams five-game losing streak and brought them to an overall record of 5-13 and 4-8 in conference.
Sophomore guard Morgan Arden scored 22 points, 19 in the first half, and connected on 8-of-15 field goals with a 2-of-3 performance from three-point range. She was 4-for-4 from the foul line. She also added game highs of 10 assists and four steals.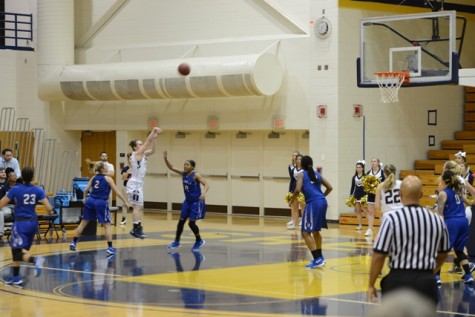 Junior guard Cara Mason added 20 points, hitting 9-of-13 field goal attempts with a 2-for-2 performance from the foul line. She also added six boards and five assists.
Freshman guard Kristen Nunn tossed in 19 points, while Myers added 16 points and six rebounds.
Junior guard Sammy Bane came off the bench and contributed 11 points and freshman guard Kari Lankford had eight points with a team-high seven rebounds.
The Rams connected on 53.3 percent (40-75) from the floor with a 55.6 percent (5-9) performance from three-point range. They hit on 76 percent of their free throws (19-25). Glenville State hit on 35.7 percent (30-84) of their field goals with a 23.3 percent (10-43) effort from beyond the arc. The Pioneers were successful on 79.3 percent (23-29) of their free throws.
Shepherd had a 46-45 edge in rebounding. The Rams forced 19 turnovers and committed 23.
The Rams return to the court on Thursday when they travel to UVA-Wise for a 5:30 p.m. match.
Allie Holmes is a sports writer for The Picket. She can be reached at aholme07@rams.shepherd.edu.