(THE PICKET) — Parking in Shepherdstown will be free from Dec. 14 through Jan. 14 while new parking meters are installed.
The Shepherdstown mayor and the town hall committee members voted unanimously on Oct. 13 to replace the previous parking program with Passport.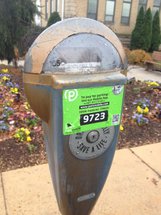 According to general comments from the committee, the current parking service is terrible and some people are unable to get into their accounts.
The new parking program will also come along with an app that will allow people to pay for their parking without returning to their vehicle. The new app requires less personal information to pay, whereas, under the old system, people had to include vehicle information including the model of the vehicle.
Jim Auxer, mayor of Shepherdstown, said, "The Passport company has a 100 percent retention with cities. Also we will have direct contact to a representative if something were to go wrong with the system."
Flyers and stickers are to be posted around town to advertise the change.