Last Sunday, the St. Agnes Catholic Chapel was able to house a special rehearsal. Julia Davis' 'The Anvil' will be brought to life in Charles Town, West Virginia, a play written around the 1960s.
'The Anvil' tells a story based on the actual events of the trial of John Brown in 1859. He is seen as a 'terrorist, liberator, American hero, despised villain.' It takes the audience through the courthouse and Brown's jail cell as he fights to defend his actions of freeing enslaved people and fighting against those who are against him.
Director Joe Yates had worked on this production before in the late 1980s, and last worked on it in 2014. He decided to brush off the work and planned to start directing it again until COVID-19 happened in 2020. Yet, after everything, Yates can work on 'The Anvil' again this year with various cast members.
"Our message is simple: You decide. We don't present Brown as a hero or as a villain. But even more important than Brown, the passions and attitudes prevalent in the country today are exactly as they were in 1859. The issues are different, but the passions are identical," Yates said.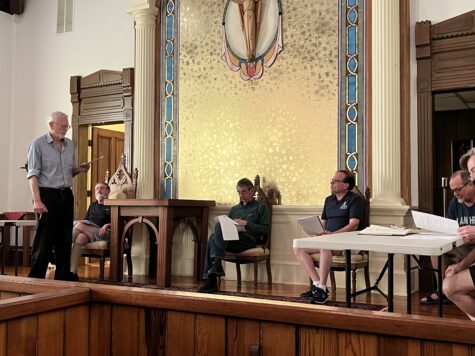 Other cast members all had the same message in mind. They do not want to present their characters as heroes or villains; they want to share what their characters thought or said during the trial. Many of the cast members were lawyers themselves, so a lot of how they portrayed their characters was done by research and what they already knew about the law.
Jack Shaw, Associate Vice President for Campus Services, had participated in this production three times many years ago with Yates. Shaw plays Captain John Thomas Sinn, a Frederick, MD, militia member.
"He [Captain John Thomas Sinn] was, as a matter of fact, a person who wanted the nation to know that the trial of John Brown was conducted fairly (by the standards of the day), that he was willing to do his duty, and that he was a man of honor," Shaw said.
Another cast member, Katherine Bonner, plays the narrator. This present-day character ties together the periods to tell the story more modernly. She sees this as a way of informing the audience what had happened in 1859, as if she was reading from a newspaper or telling someone she knew about this trial.
"My initial thought when I first read the script was that it seems like a fun historical play, and I was excited to learn about the history that happened around the place I now live," Bonner said.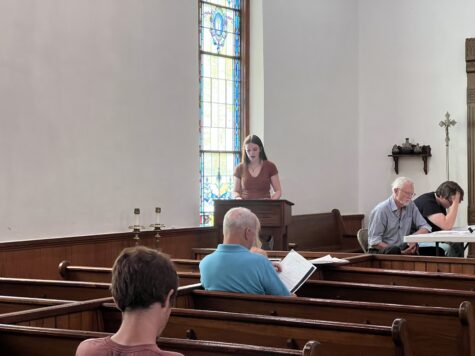 Yates has planned on performing this at the Courthouse in Charles Town, where John Brown was tried with the blessing of Judge David Hammer. Hammer is also a part of the cast, playing one of John Brown's lawyers. With production underway, it is clear that Yates and other cast members had big plans for this to affect the audience and the audience's reaction to everything portrayed in 'The Anvil' 1859 to the present day.
For more information, contact Joe Yates at 304-676-8059 or AnvilTickets@gmail.com. Seating is limited, and reservations are highly encouraged. The performance will be on October 6-8 and 13-15, with the doors opening at 7 p.m. on Fridays and Saturdays and doors opening at 1 p.m. on Sundays; tickets are $15 or $10 for those under twenty and over sixty.