The Stubblefield Institute for Civil Political Communications held a panel to discuss policing of hate crimes and hate speech on Nov. 16 in the Shepherd University Student Center.
This event was the first of an ongoing series of discussions that Shepherd will host to address the root causes of hate-based violence.
Panelists who attended were Berkeley County NAACP Legal Redress Committee Chairperson Rita Caufield, Berkeley County Sheriff Nathan Harmon, EPEC Hate Crime Victim Advocate Keith Pollard, and former U.S. Attorney Bill Powell.
Rita Caufield (left), Nathan Harmon (second), Keith Pollard (third), and Bill Powell (right) answer questions from the audience in the Shepherd University Student Center in the Storer Ballroom on Nov.16. Photo by Courtney Bell.
A key topic in the discussion was on the low percentage of reports of hate crimes. Many attendees expressed that the low numbers are due to fear of not being listened to by police, regardless of ethnicity, religion, gender, or sexual orientation, giving victims the conceived notion that contacting law enforcement is not in their best interest.
"I think that there are other avenues that people are taking. I think that there is absolutely an underreporting," Pollard said.
One group of attendees expressed their worries about doxing due to its significant reoccurrence online.
Doxing is a way to share another's personal information with others online.
Harmon had advised to save every piece of evidence a victim receives so law enforcement can accurately detect and apprehend a suspect.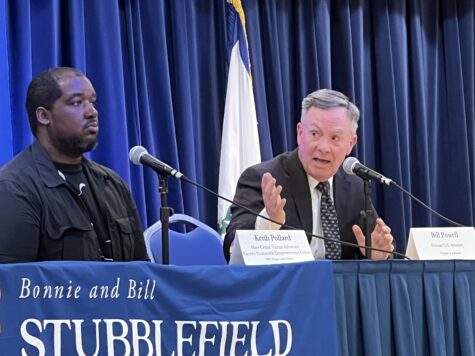 Educating young children on hate crimes was a vital part of the discussion.
Caufield introduced teaching this topic in schools at a young age, expressing that outlining specific classroom plans can give students an outlet in understanding different emotions and how to interact with one another without hatred.
According to Caufield, stopping hatred from a young age can be a solution to curb societal hatred online, as she credited forms of online content to be a main driver of negative emotions.
"We need to protect our young people from this horrible stuff from the internet. If we can't, until we can do better, we need to do better proactively in our educational system," Caufield said.