(THE PICKET) — As the Shepherd Rams football team completes its fifth undefeated season and starts the push for a national championship, the focus is on the team.
Fans can always point to Quarterback Jeff Ziemba's amazing 26:2 touchdown to interception ratio, or how kicker Ryan Earles became the schools all-time leading scorer. Yet, overall, the team as a whole has been the main focus this season.
Some may call that unselfish play, some may call that being brought up to believe that the name on the front of the jersey is a whole lot important than the name on the back. Yet one thing is certain, Coach Monte Cater and his coaching staff should get credit for instilling a team-first mentality and making it a point that individual talent isn't going to win games. It's good team play that wins.
With that being said, the Rams this year were loaded with individual talent and those athletes were recognized the week before Thanksgiving in the All Mountain East Conference Team, in which a mind boggling 20 Rams were selected to this year's team with an outstanding 11 first team selections.
The first team all Conference selections were, QB Jeff Ziemba, WR Billy Brown, FB Jon Hammer, OL Lavante Hight, DL Myles Humphrey, DL Shaneil Jenkins, LB James Gupton, DB Tre Sullivan, K Ryan Earles. KR/PR CJ Davis.
The second teams all conference selections were, RB Allen Cross, RB Jabre Lolley, TE, Jamie Deason, OL Jacob Kingston, DL Isaiah Ross, LB Keon Robinson, LB Octavius Thomas, DB Adam Coles.
There are two awards bigger than most: the offensive and defensive players of the year spotlighting the best player in the conference on each side of the ball. This Year both those awards were earned by Rams.
Ziemba took home the Offensive Player of the Year award with a season that will be engraved into not only the record books but the minds of all who witnessed his play. Ziemba finished the season throwing for 2,842 yards and 26 touchdowns – a school record, and only two interceptions.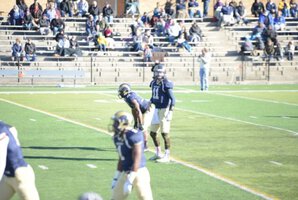 Quarterback Jeff Ziemba looks out to his receivers examining the Defense.
Jenkins received the defensive award. Jenkins led the team with 10.5 sacks on the season while adding 29 tackles, 17 of them being for loss.
"Seeing these guys win those awards just continues to set the bar high for the rest of us and makes us want to push even harder and play at the highest level we can," said Linebacker Tre Anderson
With individual award season coming to a close the Rams look to win the biggest team award there is, a National Championship. Their journey to Kansas City begins next Saturday Nov. 28 when they take on the winner of Charleston University and Indiana University of Pennsylvania.