(THE PICKET) – First seed Shepherd University took down Indiana University of Pennsylvania in the second round of the playoffs on Saturday in Shepherdstown with a 17-13 score.
The stadium was packed with about 5,000 fans who didn't let the rain stop them. They were constantly on their feet cheering their Rams to victory.
Coming into the game, Shepherd was ranked in the top 10 in the country in both scoring offense with fifth place and defense with eighth place. The Crimson Hawks, at 9-2, were on the road at a Mountain East Conference team for the second-straight week.
Rams took an early 3-0 lead with less than 2 minutes into the first quarter on a 30-yard field goal by Ryan Earls. On the very next drive, IUP came back and scored a field goal, tying the game 3-3. The score remained tied for the rest of the first quarter.
In the second quarter, about 4 minutes in, IUP took the lead with a 41-yard field goal to make the game 6-3. From this point on, the Crimson Hawks held the lead.
IUP gained a 13-3 lead after a controversial call. Shepherd blocked an IUP field goal, which IUP recovered for a touchdown in the third quarter. If fans were not riled up enough, this really got them going. The fans showed their support of the Rams with their colorful comments toward the refs and demands that, 'his elbow was down,' which would not have given IUP the touchdown. This call ignited a fire under the Rams' football team and the momentum of the game changed immediately.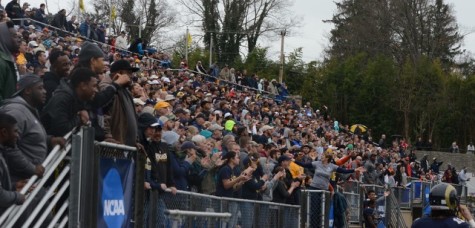 "We focused on stopping the run, we knew it was what we had to do," said Coach Josh Kline, defensive coordinator, and that is exactly what they did.
In the fourth quarter, a 5-yard touchdown run by junior Jabre Lolley brought the Rams within one possession and made the score 13-10. With the crowd going wild, the Rams defense held strong, and with 2 minutes left, junior quarterback Jeff Ziemba threw a 28-yard pass to wide receiver Billy Brown for a touchdown, putting the Rams on top 17-13.
The game was very much a defensive battle. "I am so very pleased with these guys," Kline said. "It was a four-quarter battle, like we knew it would be."
Ziemba threw for 175 yards, had one touchdown pass and one interception.
Senior running back Allen Cross had 54 yards in 15 attempts, while Lolley rushed for 38 yards with one touchdown. Brown had 11 receptions for 159 yards and one touchdown.
Junior inside linebacker Octavius Thomas had nine tackles for the Rams, while both Cam Reynolds, junior inside linebacker, and senior defensive tackle Isaiah Ross had 7 tackles, and Ross with a sack.
Rams will host Slippery Rock University on Saturday, Dec. 5, at home, for the NCAA quarterfinal game. Slippery Rock will come into the game with a record of 12-1. This