Scouts from 32 professional football teams are expected on campus Tuesday, March 27, to watch six graduating seniors from Shepherd and other players from throughout the conference run through drills.
The Pro Day, set to begin around 1 p.m., could determine whether the players will be signed to professional football teams.
Participating Rams are Connor Jessop, Cam Reynolds, Lavonte Hights, Ej Norris, Jabree Lolly and Myles Humphrey. The Pro day will consist of the 40-yard dash, bench press, vertical jump, broad jump, L-cone, drill, 5-10-10 shuttle, and other position specific drill.
The Rams look to join fellow teammates Tre Sullivan, Billy Brown, and Jeff Ziemba at the pro level. Sullivan and Brown are signed with the 2018 Super Bowl champion team Philadelphia Eagles, while Ziemba is signed to the Arena Arizona Rattlers. Sullivan was a standout safety for the Rams: Brown was one of the best receivers in college football, and Ziemba was a standout quarterback and holds all the Shepherd Rams passing records.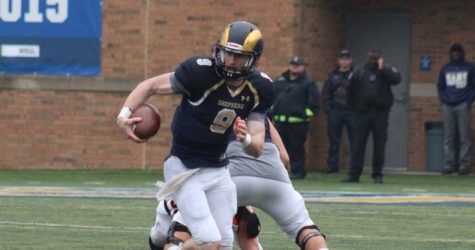 Jessop will be participating in the pro-day as a quarterback. Jessop was one of the top quarterbacks in the nation this year throwing 40 touchdown passes for over 3,000 yards. He was selected first team All MEC and All-Region. Jessop was also selected MEC offensive player of the year and was a Harmon Hilton Finalist.
Reynolds played linebacker for the Rams and contributed to the Rams defense and special teams. He will be entering the pro-day as a linebacker.
Hights was a standout left tackle for the Rams. He holds the consecutive start record for the Rams and was a three-time All-American during his tenure at Shepherd. He was also selected first team All-MEC and first Team All-Region. Hights will be participating as a left tackle and currently has a draft eligible grade.
Norris played defensive end for the Rams. His length and explosive ability earned him second team All-MEC honors and a spot in the senior Dream Bowl. Norris will participate as an Outside linebacker/ Defensive end. Norris is attracting more attention and will be considered a steal to any team that signs him.
Lolley was a top running back in the nation for the Rams. Lolley rushed for over 1,000 yards and 18 touchdowns. He was selected first All-MEC and led the conference in scoring. He will participate in the pro-day as a running back.
Humphrey was a standout defensive end for the Rams. He was selected first team All-MEC, first team All-Region, and First Team All-American. Humphrey was also selected MEC defensive player of the year. It is unclear if Humphrey will test as a Linebacker or defensive end but he is expected to test well regardless.
Students are invited to watch the tryouts in the football stadium.