Have you ever woken up one day and thought about picking up a drawing utensil but did not know where to start? Well, look no further. The Visual Arts Collective is open to anyone interested in drawing, no matter what major you are a part of.
The VAC is a student-led organization. It's a group of passionate, emerging artists who strive to provide a supportive environment for all students, in and outside of the classroom setting. The VAC holds exhibitions, juried shows, publications, and professional/networking opportunities for students to get exposed before they leave college and have hands-on experience.
The VAC is run by its president Charlotte Puttock, a senior who got into the organization during her first year of college.
"I was working in the painting studio and noticed that a group of seniors was sitting at the table. They asked if I was interested in sitting in a meeting, and I have been a member ever since," Charlotte exclaimed.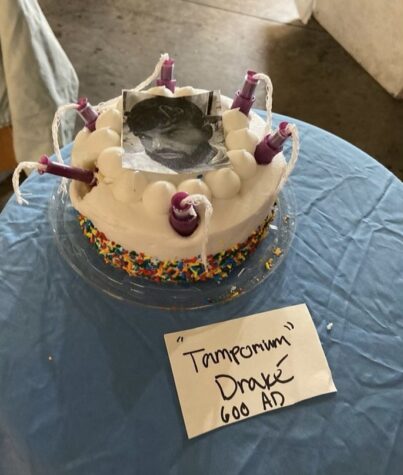 The organization's treasurer Sikara Sokel, a junior, shared her journey to getting involved in the VAC.
Sikara said, "My freshman year, I was a theater major and was taking a painting class, and Sonya Evanisko mentioned the VAC, so I joined so I could make some friends in the art department."
The organization knew that art students benefit immensely due to their getting used to the community they will work in for their careers. The students would have the opportunity to make friends, get to know others while working during one of the workshops, etc.
Their upcoming spring show and past workshops, such as cyanotype (a camera-less photographic printing process) and texture (element of two-dimensional and three-dimensional designs) workshops, give students a chance to "develop their skills, learn new mediums, and establish themselves as artists."
"Creating an impact on campus life is absolutely one of the goals of this collective. It is important to us that students have enriching experiences outside of the classroom, and we wish to aid in that in any way possible," Charlotte said.
Throughout the VAC's growth, the organization has been able to raise funds for a "themed show featuring the work of VAC members in the spring." While the space to hold this event is still undetermined, it will most likely be on campus. This show is critical to the VAC; it allows members to work together as creators and curators, showing students how to work professionally.
Out of all their events, Figure Drawing, is the club's most frequent event, yet club members strive to create experiences for artists of every medium.
"For example, in our recent texture workshop, we showed how encaustic wax can be applied to photographic prints or be mixed with pigment in a painterly process," said Charlotte."Professional contemporary artists do not tend to define themselves by a single medium, and we want to highlight that frame of thinking with other students."
Sikara added that VAC has not had many chances to work with sculptural forms in any events but hopes to be able to work with the sculptural forms by the end of this semester. They will also be doing a "mounting and matting workshop," where they will help show students how to show their work professionally and properly. Mounting is adhering a print to a backboard, while matting is a border that surrounds the artwork.
For their final thought, Charlotte and Sikara would like to add that the entirety of VAC is grateful to have many people participating and enjoying many of their workshops.
"Faculty, community members, models, and other students have supported us and our events, and we're grateful this semester has been going well & we are excited for the future," said Charlotte and Sikara.
For anyone interested, follow them on Instagram @vacshepherd; you will receive updates on any upcoming events they will host. Anyone from any major, in and out of classroom settings, is welcome.