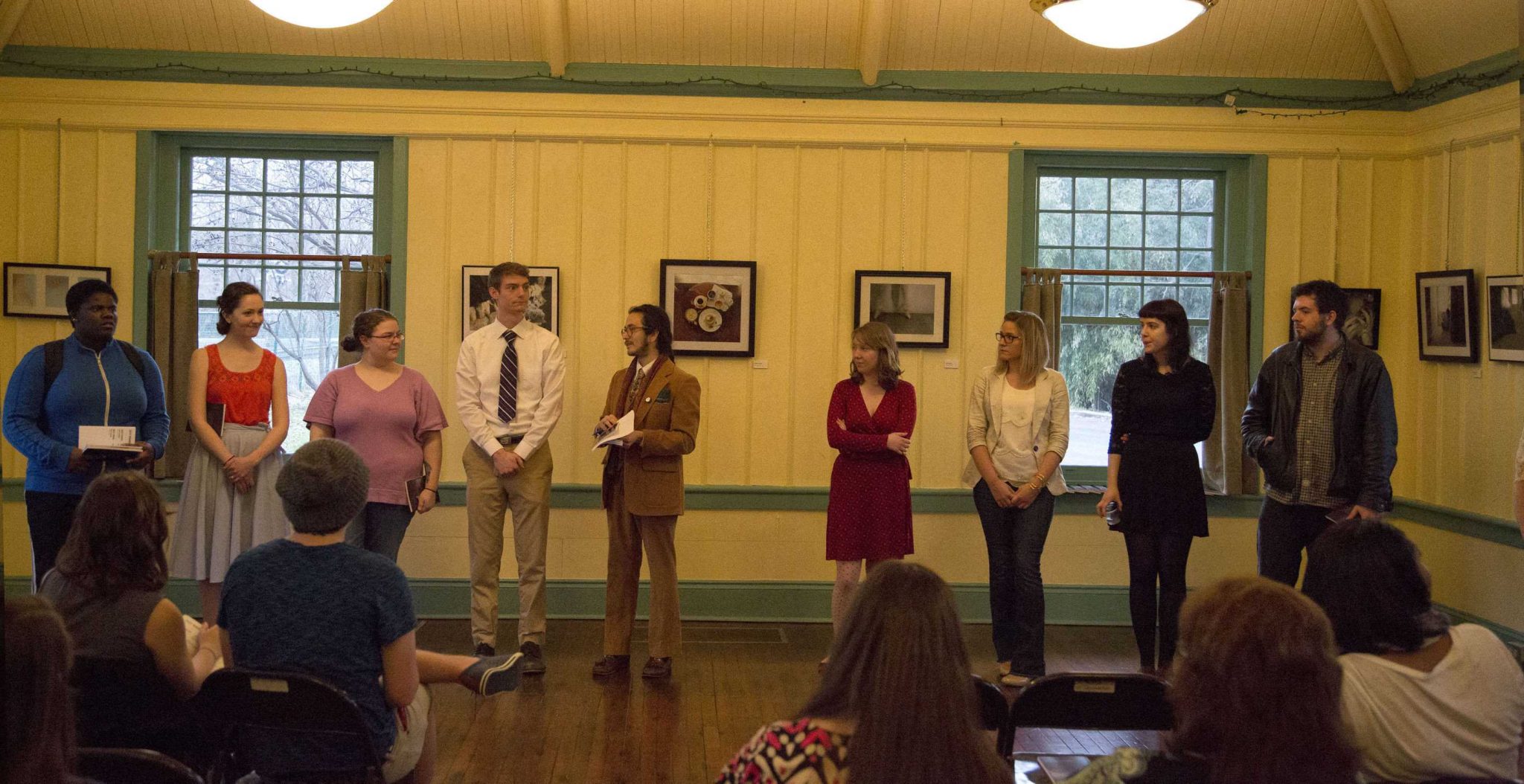 Students, faculty and community members gathered for an art exhibition and poetry reading at the release party for volume 38 of Sans Merci on Thursday evening.
The release party of Shepherd's annual undergraduate creative magazine was held in the Shepherdstown train station, and approximately 50 people were in attendance.
Stephon Hummer, art editor and graduating senior, was pleased with the number of people who came to support the magazine and the atmosphere that the train station provided.
"The turnout is great, and I would like to see future release parties held here," said Hummer.
Volume 38 of Sans Merci features prose, poetry and artwork from 33 student contributors. Many pieces were submitted for consideration this year. There were 82 art submissions and 18 were accepted, according to art editor Emily Jones.
A team of eight student editors reviewed the submissions and decided which pieces were to be included in the magazine.
"It was humbling to get that chance to help people get their work out there," said literary editor and senior English major LaShawn Tolson.
"I am really grateful to be included in this volume of Sans Merci," said senior English major Brendan Darby who has four poems published in the magazine.
Jade Flamenco, senior literary editor of Sans Merci, was pleased with the final product and said he enjoyed working with the team of people who made it possible. Flamenco also complimented the artwork that was chosen for the cover of volume 38. The cover features a piece by Jessica McCann entitled "Ophelia."
During the release party, the senior editors of the magazine announced the four winning art and literary entries from this year's volume.
The award for best poetry went to Katy Cousino for her poem "Fatty Fleshy Fat Fat." Kacy Cooper won in the category of best prose for her story "Flickering Lights." The winners for the category of best art were Valerie Perez's "Molly Heart #1" and Ashli Cheshire's "Nurture."
Following the art exhibition and the announcement of the 2014 winning entries was a poetry reading featuring several of this year's student contributors. Audience members followed along in the magazine as the poets read aloud.
Brandon Nicholas, literary editor and graduating senior, discussed the positive impact that publications like Sans Merci can have on the Shepherd community.
"I think that Sans Merci adds to the culture of campus, and it provides a great opportunity for students to get their work recognized," said Nicholas.
Sans Merci is published each spring, and copies of volume 38 are available now.