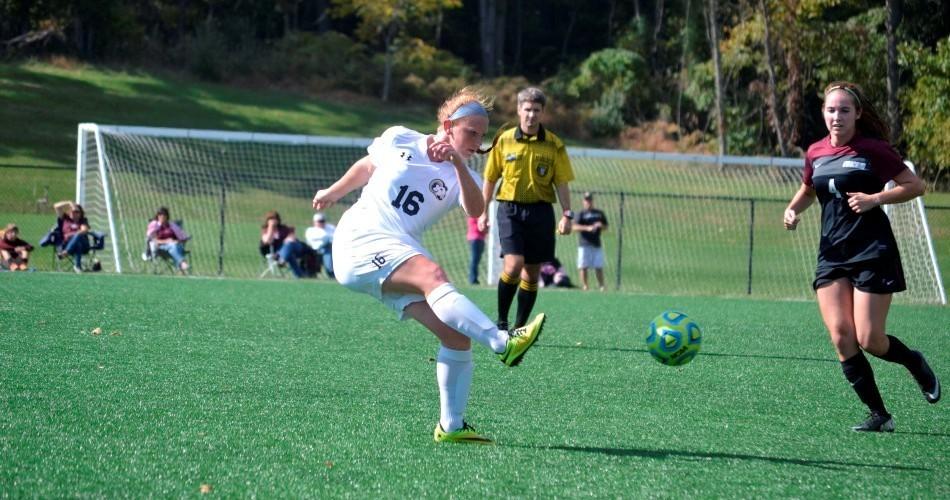 The Shepherd University women's soccer team has now won four straight games, with their most recent victory coming against the University of Charleston of Saturday, Oct. 11. Furthermore, sophomore goalkeeper Anna Muller was recognized on Oct. 6 for recording a pair of shutouts against West Liberty and Urbana when she was named Mountain East Conference defensive player of the week.
Recently, the entire Lady Rams team has been strong defensively, as they are now allowing opponents, on average, only 9.1 shots per game and in addition, teams are averaging a mere 1.33 goals per game. Thanks to their recent success and winning streak, Shepherd now finds themselves sitting second overall in the MEC Women's Soccer standings with a 7-5-1 overall record as of Oct. 12.
On Oct. 8, the Shepherd women's soccer team rallied to defeat Concord University by the score of 3-1. Concord took an early 1-0 lead, just six minutes into the match, when Stacy Calder scored on an assist from Margot Provencher. Shepherd responded and tied the game just moments later when freshman midfielder Stephanie Cox scored an unassisted goal at the 7:50 mark. At the 13:34 mark, the Rams took the lead when senior defender Kelsey J. Smith score on a free kick. Senior defender Katie Socks would add an insurance goal at the 72:03 mark when she scored unassisted.
The Lady Rams did a good job possessing the ball as much as possible and keeping pressure on the Concord defense throughout the match as goalkeeper Anna Mueller recorded only one save. In addition, Shepherd held a 17-3 advantage in shots and a 5-0 edge in corner kicks.
The Shepherd women's soccer team won their fourth straight game on Saturday, Oct. 11, beating Charleston by the score of 2-0. The game remained a scoreless tie through halftime and until the 58th minute when Stephanie Cox scored an unassisted goal to give the Lady Rams a 1-0 lead. Kelsey J. Smith managed to add an insurance goal just minutes later when she tallied an unassisted goal at the 63:44 mark. It would be all the Lady Rams would need to claim the victory as Charleston failed to mount any kind of comeback. Anna Mueller had another stellar game for Shepherd as she had six saves in route to recording the shutout.
The Lady Rams will play their next match on Wednesday, Oct. 15 when they host Wheeling Jesuit.