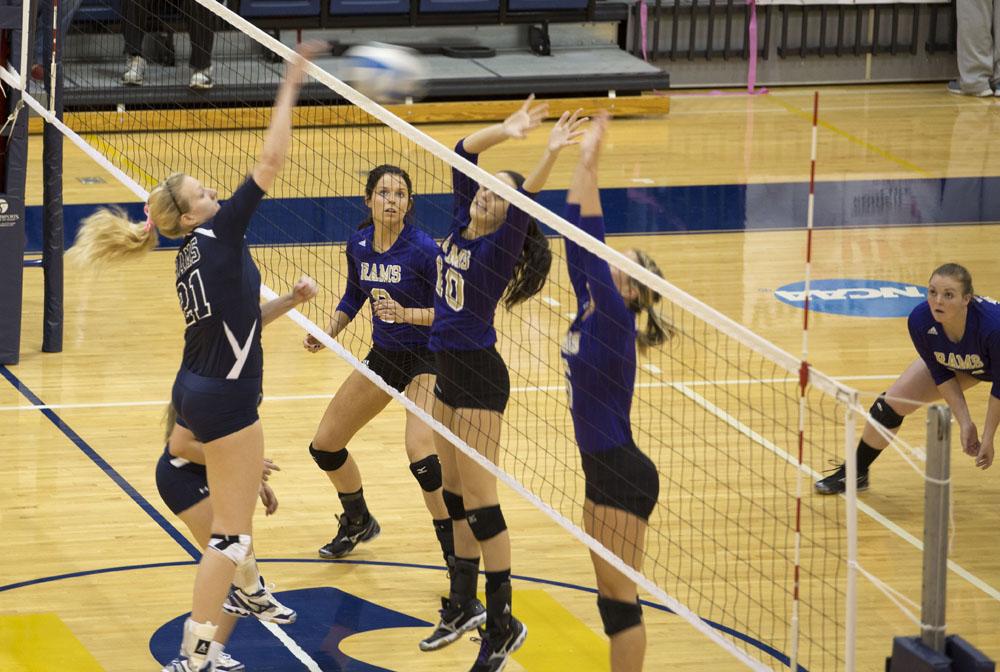 It was twice as nice for the Shepherd University volleyball team this past week as they dropped a match between two victories. The team really needs to start putting some wins together as the squad has been seeing their position in the conference slip in recent weeks. Recording twice as many wins as losses should go some way in maintaining their position in the Mountain East.
Last Tuesday, West Chester invaded the Butcher Center. After losing the first set 16–25, the Rams rallied and won three straight sets: 25–18, 25–20, 25–18. Sophomore Anna Roper had 11 kills while senior Melani Lewis added 10 kills. The Bay Shore, N.Y. native would add eight digs and three blocks. Taylor Belella added 17 assists to the cause while freshman Tommie Jo David added 16 of her own. Lauren Summa of Delaware led the team with 13 digs while Kayla Motheral recorded a match-leading eight blocks.
The result was short-lived as the Rams fell to Notre Dame Friday night. The Rams won the first set in convincing fashion, but Notre Dame rattled off three straight set-wins to take the win back to Ohio. Meg Kenny and Kayla Walker had eight kills apiece while Melani Lewis would go on to add seven. Taylor Belella added an impressive 26 assists on the evening while Lauren Summa added 25 digs. The loss had an adverse effect on the Rams; it saw them lose a conference matchup, something they can't afford to do at this point too often. Other Mountain East opponents are clipping at their heels. The other bad thing about the loss was the fact that Notre Dame was an inferior opponent; the win saw them improve to just 4–22 on the campaign. It was only their second win in the MEC. Their only other conference win came against the University of Virginia-Wise.
Shepherd did bounce back the very next day, however. They defeated Urbana in four sets, losing the first set and then rattling off three straight set-wins to end the match. The final was 22–25, 25–19, 25–19, 25–16. Kayla Motheral and Anna Roper each had 11 kills on the evening. Roper also added four aces to go along with an impressive 16 digs. Taylor Belella added an astounding 42 assists while Taylor Allen had 28 digs. The victory will see the Rams make it back even to 12–12 overall, but more importantly, their conference record improves to 7–5.
Fairmont and West Virginia Wesleyan will both be visiting the Butcher Center this week. Those will be the final home games of the regular season for the Rams. That makes the Wesleyan matchup Senior Night. Make a point to get to the game. It is always good to send seniors out the right way. They have given up lots of their free time to compete for the institution.