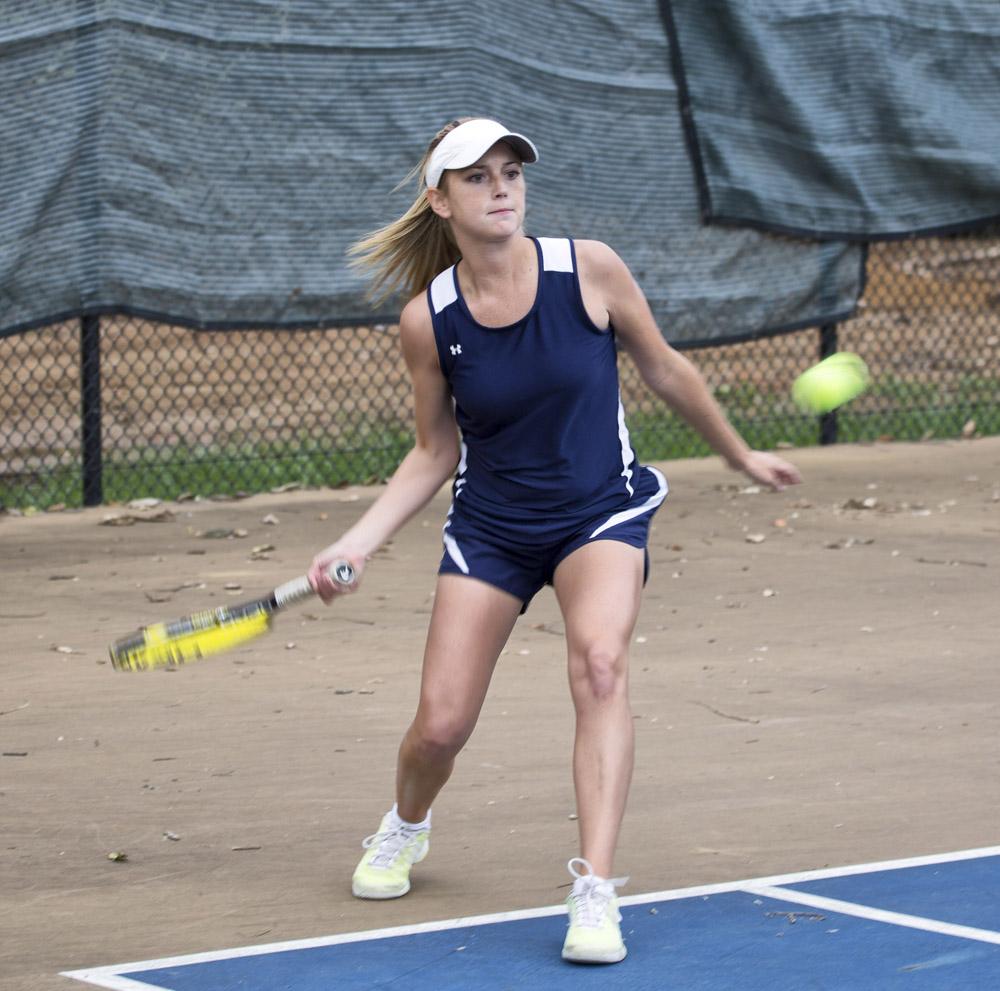 You win some and you lose some. It's been said before and it will be said again.
Weather prevented the young ladies of the Shepherd University tennis team from competing against Alderson-Broaddus on their originally scheduled date, but the match was rescheduled for this past Wednesday. To put it lightly, the Rams escaped with a win.
The reason for the escape was because of sophomore number two Jana Jones. Jones had lost her first singles set 0–6, but rallied to win her final two sets to give the Rams the 5–4 team win. She won her last two sets in the same manner in which she had lost the first set, 6–0, 6–0. Her effort and focus allowed the Rams to emerge victorious; her match went so long she was the only Shepherd Rams left playing. No doubt, her focus helped the Rams win the match.
In doubles action, Jones and her partner, Katelyn Mumaw, were victorious over Stephanie Gertsakis and Mireia Fabrega. They won their match 8–1. Alderson-Broaddus' Veronica Mueller and Jordyn Walker defeated Shepherd's Alice D'Alauro and Stacy Brewbaker 8–3, while Shepherd would get the last doubles victory on the day as Emily Johnson and Chloe Raines won by a score of 8–4.
In singles action, Katelyn Mumaw defeated Gertsakis 6–2, 6–3. It was a tighter affair than the score line indicates; Gertsakis didn't lose many games that badly, although the set score makes it look worse than it actually was. As already mentioned, Jones provided the vital win on the day. Her ability to rally after getting beaten fairly badly in her first set was very important. Yellow Spring, W.Va. native Brooke Davis rounded out the wins for the Rams, defeating her opponent India Fields convincingly, 6–1, 6–0.
The Rams went win-less at the conference championship in Charleston. Mumaw and Jones fell 8–2, Brewbaker and D'Alauro lost 8–4, while Raines and Emily Johnson lost 8–0. It didn't get any better in singles, with D'Alauro and Davis both losing. Some of the matches didn't finish because Charleston had already posted five wins. After gaining some momentum from the victory over Alderson-Broaddus, this was not exactly what the Lady Rams had in mind.
This marks the end of the season for the tennis team. They finished the year in sixth place out of eight schools. However, if you see Katelyn Mumaw around, make a point to congratulate her. The Charles Town, W.Va. native was named to the inaugural Mountain East Conference First Team for tennis. Certainly she will hope to carry her success into next season.