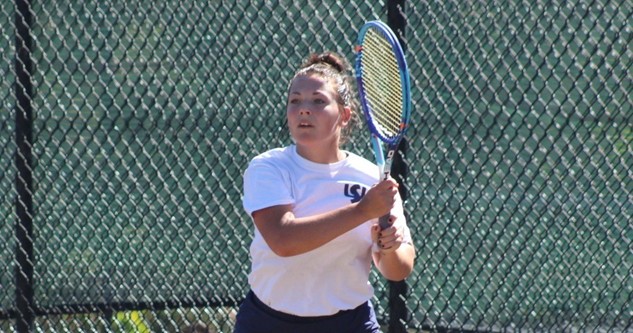 The Rams (3-5, 1-5 MEC) dropped a home contest in Shepherdstown, W.Va., Saturday morning to the Bobcats (7-3, 5-2 MEC) by a 9-0 score on Homecoming Weekend. 
In doubles action, juniors Zoie O'Neal and Alisha Adkins met stiff resistance from the Bobcats' duo of sophomores Irene Nunez and Cecila Martinez Oliver, who shut them out by an 8-0 score. 
Things did not go any better for junior Anna Bock and sophomore Zoe Nicewander, who also lost by an 8-0 score to Bobcats' sophomore Rebekka Heigermoser and freshman Julia Yanes. The Rams could not handle the serves and volleys that the Bobcats were launching back at them, leading to many points for the Bobcats. 
Juniors Olivia Scott and Nicolette Bruley were only able to have slightly more marginal success than their fellow Rams did in doubles play, as they lost by an 8-1 score to seniors Estel Fernandez and Kasumi Hayashi of the Bobcats. 
The Bobcats' momentum stayed relatively stable during the entire course of the match, as the Rams were able to counter with little or no resistance on their part.  
Singles play would go much of the same way for the Rams unfortunately, as they were incapable of making adjustments throughout the match. 
O'Neal, Bock, Nicewander, and Scott got shut out in singles play by Nunez, Martinez, Yanes, and Fernandez of the Bobcats, respectively. All four Bobcats won by 6-0, 6-0 scores, as their style of play proved to be too much for the Rams to handle.  
Adkins avoided a shutout, but still lost by a 6-1, 6-0 score to Heigermoser. Bruley played slightly better, but still fell to Hayashi by a 6-1, 6-1 score. Adkins and Burley, just like the rest of the Rams, were not able to handle the Bobcats' strong attack.  
The Rams were not able to replicate their impressive 7-2 road victory on Monday over Gettysburg College, as a variety of mistakes led to their downfall.  
The Bobcats came ready to play and executed with great precision and displayed great accuracy with their shots.  
No matter what the Rams tried, the Bobcats had an answer for it. On the opposite side, the Bobcats' style of play simply proved to be too much for the Rams to handle. 
With it being Homecoming Weekend, this was not the sort of performance that the Rams were looking to put on display. 
As of Saturday's match, the Rams are currently eighth in the Mountain East Conference standings. 
Anthony Bracken is the Sports Editor of The Picket. He can be reached at abrack02@rams.shepherd.edu