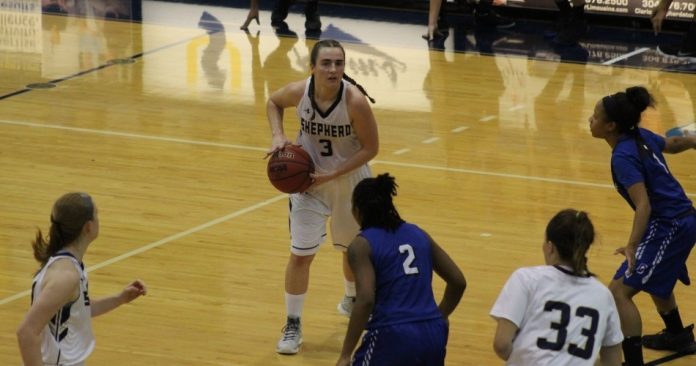 On Saturday afternoon, Dec. 2, the Shepherd Rams women's basketball team (4-4, 1-3 MEC) got dominated in all aspects of its home game against the visiting Glenville State Pioneers (6-1, 4-0 MEC), losing by a 133-61 score.
From the opening tip off, the Rams displayed a great inability to protect the basketball. The Pioneers put on an aggressive and attacking full-court press that had multiple Pioneers on a Rams' ball handler.
There were open Rams down the court, but countless times the Rams' ball handlers were unable to see them due to the pressure that was being exhibited right in their faces. This caused the Rams to panic and throw desperation passes that were either deflected or thrown right into the hands of Pioneers' players, who showed great anticipation and instincts in generating 35 Rams' turnovers.
After the game, senior guard Morgan Arden, who scored a team-high 22 points, gave testament to the Pioneers' defensive pressure.
"They had three people on one person and that's hard for our point guards to see down the floor, so they forced a of turnovers, and then…they're so quick to get the ball back on offense and get in their spots and get their shots off, so it made it really hard for us to get back on defense too."
Thanks largely to the success of the Pioneers' press, the Rams had zero fast break points for the game. Getting the ball past half court without turning the ball over proved to be a tremendous challenge for the Rams.
All of the Rams' turnovers led to 47 points for the Pioneers. When the Pioneers stole the ball, a quick pass would be made to an open shooter who would knock down a shot from three-point range, or there would be a Pioneer sprinting to receive a pass right underneath the basket, who would then make a layup upon receiving the pass.
The Pioneers did not need any more help getting easy baskets, as their half-court offense executed at an excellent rate. As a team, the Pioneers shot 57.3 percent (51-89), with a lethal performance from three-point line, making 42.9 percent (15-35) of their shots from three-point range. From the free throw line, the Pioneers were fairly effective, making 72.7 percent (16-22) of their shots in this department.
No matter how much defensive pressure the Rams put on the Pioneers, it did not seem to matter, as at times the Pioneers' three-point shooters could not miss. Five different Pioneers made at least two three-pointers, while only one Ram (Arden) did so.
Senior guard Paris McLeod of the Pioneers led all players in scoring with 25 points. McLeod also tied for the game lead with eight rebounds and four assists, as she contributed in many facets of the game.
Six other Pioneers reached double figures in scoring alongside McLeod. Junior guard/forward Emily Stoller made four out of her seven three-pointers to help herself finish with 23 points of her own for the Pioneers. Junior forward Courtney Davis of the Pioneers had a dazzling all-around game with her 13-point, six-rebound, and two-assist outing.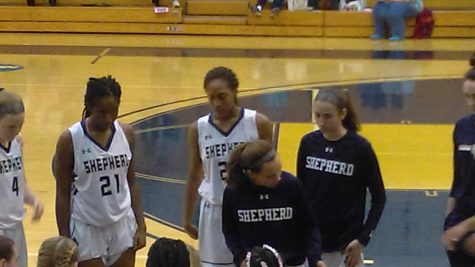 When the Rams were able to get the ball past the half-court line, there were times when the Rams exhibited excellent ball movement to find open shooters who knocked down open shots. However, this trend was few and far between.
There were countless times when the Rams were running their half-court offense, just like when they pressed, the Pioneers' defense came with two or three of their players to put great pressure on the Rams' ball handlers, forcing them to make errant passes or bad shot selections.
Arden had three rebounds and four assists in addition to her 22-point performance, in which she made nine out of her 17 field goal attempts. Freshman forward Sydney Clayton was the next highest-scoring Ram with eight points off of the bench. Clayton also pulled down a team-high eight rebounds.
Junior guard Kayla Tibbs had trouble finding her stroke for the Rams, as she finished with seven points by making three out of her 11 shots.
Tibbs was not the only Ram to struggle shooting wise, as the Rams shot 39.7 percent (25-63) as a team. From three-point range, the Rams had moderate success by shooting 33.3 percent (4-12) during the game, but struggled a bit at the free throw line, making just seven out of 12 free throws (58.3 percent).
The head coach of the Rams, Jenna Eckleberry, gave her thoughts after the game about what the Pioneers did so well to cause great challenges for the Rams during the course of the game.
"They're [Glenville State] a very, very good team, [but] you know I don't think it's what they did, it's what we didn't do. You know we knew they were a good team [and] we knew they were ranked [high] in the country and [we] went over all of this, but if they make shots and they play like that, ok I can live with it, but it was the little things that I saw that I didn't like from us. So, give all the credit to Glenville, but…they're a very, very good team but it's embarrassing, not the final score, or that they made more shots and all [of] that, it's just embarrassing about how we handled the little things."
Despite the loss, the Rams did have some reason to celebrate, as Arden surpassed the 1,500-point mark for her career. With her 22-point performance, Arden now has more points than Shepherd Hall of Famer Cassie Murray (1,494 career points) and is now the Rams' second all-time leading scorer with 1,507 career points.
Arden gave her thoughts on reaching this milestone after the game.
"Thank God for that [and] thank my teammates, my coaches. They all stand by me. I couldn't do it without them. They all look to get the ball to me, so thanks to them. It is an honor."
On Wednesday, Dec. 6, Arden and the Rams will look to put forth a better performance when they take on West Liberty in a 5:30 p.m. home matchup.
Anthony Bracken is the Sports Editor of The Picket. He can be reached at abrack02@rams.shepherd.edu