The Rams (13-7, 10-4 MEC) grabbed an 86-69 win against the Concord Lions (5-14, 1-12 MEC) Saturday evening, Jan. 28.
Even though they shot poorly from three-point range, the Rams dominated inside, scoring 30 points in the paint.
The Rams pressured the ball, and for the eighth time this season, held their opponents to under 70 points, while forcing 10 points off of nine turnovers.
AJ Carr lead all scorers with 30 points, going 14-21 from the floor. He scored 18 of those points in the first half to give the Rams a 48-35 lead going into halftime.
The Lions came out swinging in the second half and took advantage of the Rams' poor three-point shooting by switching to a zone defense, forcing a few missed buckets for the Rams, to go along with a few makes of their own. The Lions managed to cut the lead down to six with 5:24 left in the game, but could not capitalize.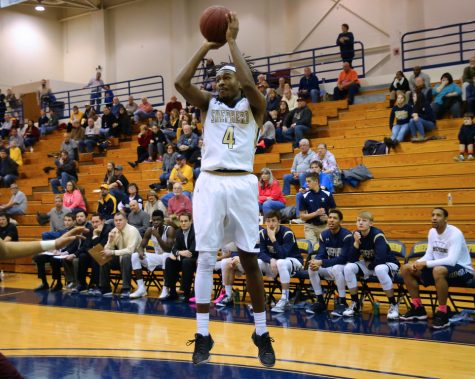 The Rams' bench scored 25 points with a spark performance from junior forward Gavin McTavish, who scored 16 points on 4-6 shooting from behind the arc.
Freshman guard Thomas Lang also contributed off the bench, scoring nine points on 3-4 shooting from behind the 3-point line.
Coach Justin Namolik spoke on the Rams performance after the game:
"We didn't shoot the three well tonight. We talked about establishing ourselves inside and AJ did a great job at that. I think we just did a great job at defending the three [point shot] as a team," Nomalik said.
Looking ahead to the next game against West Liberty, Namolik said, "West Liberty is coming in as a high scoring team. I think they get overlooked on how good they are on defense as well. It's going to be a dog fight, but we're looking forward to it."
Catch the Rams in action Wednesday Feb. 1 at home against West Liberty University.