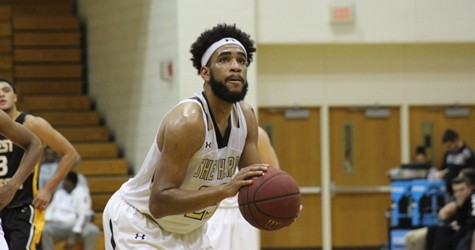 The Shepherd University men's basketball team, hosting the Clarion Hotel Conference Challenge for their season opener against Bowie State University, lost 79-71. Friday Nov. 10.
The Rams did not get off to a good start as the bulldogs pressured Shepherd early, proving how they won the Central Intercollegiate Athletic Association conference championship last year. They forced Shepherd to shoot contested shots and passes. The Rams shot 39.3 percent from inside the perimeter, and 33.3 percent from the three point line. Compared to Bowie shooting 46 percent from the inside and 38.9 percent beyond the three point line.
The Bulldogs jumped out to a 17-3 run in the first half making the score 31-14. Coach Justin Namolik would call a timeout to try to get things in order. After the break, Shepherd would get things going on offense, as senior A.J. Carr would lead all scorers in the first half with 12 points. Shepherd's offensive burst brought them within 4, making the score 38-34, with two minutes left to go in the half. The Bulldogs would answer back adding to their lead, as senior Omari George led his team in scoring with 16 points. The first half would end with the score 46-37 Bowie.
As the second half got under way the game continued to be a physical on both sides, as the bulldogs played man-to-man defense, forcing Shepherd to win one-on-one matchups. Bowie maintained the lead throughout the second half but the game was still intense and close.
The Rams would go on a 7-2 run late in the half with the score 69-67. Junior Winston Burgess rose up for a two-hand slam dunk, causing the crowd to go wild in the Butcher Center.
The Bulldogs went back to pressuring Shepherd, stopping the ball at half court, causing a few late turnovers by Shepherd. Bowie would capitalize on Shepherd's turnovers as time expired.
The Rams look to change things around when they face Gannon University, Saturday, Nov. 11.
Justin Cole is a Sports Writer for the Picket, he can be reached at: jcole07@rams.shepherd.edu 
In the video below, is a post game interview with Assistant Coach Naim Muhammad.