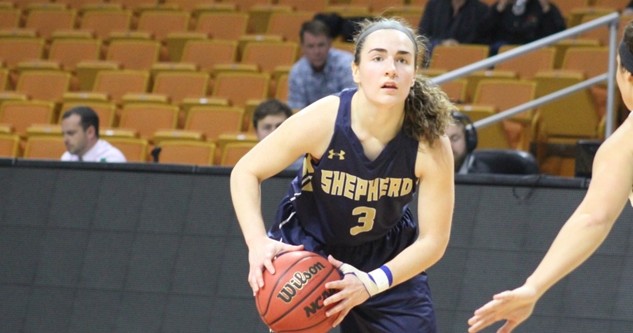 The Shepherd Rams women's basketball team (1-0) came through with an 82-65 win over the Winston-Salem State University Rams in both of the teams' season openers in the CIAA MEC Conference Challenge Saturday afternoon in Winston-Salem, N.C.
In the first half, Shepherd put its three-point shooting skills on display, knocking down five three-pointers. Senior guard Kayla Tibbs (25 points, 4 rebounds, 5 assists) netted three three-pointers, while fellow senior guard Morgan Arden (27 points, 3 rebounds, 5 assists) poured in two of her own. Sophomore guard Lauren Reed (6 points) came off of the bench and nailed a three-pointer of her own to get into the scoring action as well.
Shepherd made 55 percent of its three-pointers (11-20) for the game, as Winston-Salem State showcased great difficulty in defending the perimeter.
Sharing the ball was also key for Shepherd, as 18 assists were dished out as a team.
After the game, the head coach of the Shepherd Rams, Jenna Eckleberry, through text messages, credited the team's' ball movement as being instrumental in the victory.
"We played extremely well. We shared the ball and was [were] aggressive both offensively and defensively."
Shepherd did indeed play very aggressively on defense, forcing Winston-Salem State into 18 turnovers for the game. This led to 14 points for Shepherd that would help add to its lead.
However, Winston-Salem State generated 12 points of its own on 17 Shepherd turnovers, so the Rams really only came out plus two in terms of points in the turnover battle.
Rebounding was well in favor of Winston-Salem State, as it had a 45-38 edge over Shepherd in this department. This helped Winston-Salem State generate 16 easy second chance points and 32 points overall in the paint.
These easy points would not do much for Winston-Salem State in the end, however, as Shepherd held Winston-Salem State to 31.3 percent shooting (21-67) in the contest. Without the second chance points, this game would have been even more lopsided in favor of Shepherd.
Despite Shepherd's success, the team was only up by eight with a 58-50 score late in the third quarter after a free throw by Lenzi Brown of Winston-Salem State that she earned after getting fouled by junior forward Liz Moorman of Shepherd after converting a layup opportunity.
Shepherd may have been nervous, but did not show it, as the Rams went on a 9-0 run at the end of the third quarter and the start of the fourth quarter that gave them a 67-50 lead that they would not look back on.
Shepherd's largest lead of the game was 22 points, as the Rams put on an impressive effort from start to finish.
Arden and Tibbs proved to be too much for Winston-Salem State to handle, as they combined for 52 points by themselves for Shepherd. Together, they made 56.3 percent of their three-pointers (9-16), causing Winston-Salem State a great deal of misery in the process.
Other notable performers for Shepherd included senior guard Tiffany McKinney, who posted 11 points to go along with five rebounds. Junior guard Kari Lankford helped crash the boards with her 11-rebound effort, including seven offensively. Winston-Salem State could not protect its paint from Lankford, who had a great impact on the game. Lankford totaled five points as well to go with her solid rebounding effort.
Center Kandance Tate had a good day for Winston-Salem State, as she pulled in three offensive rebounds that helped give her five for the game to go along with her 14 points. Tate proved to be a very tough challenge down low for the Rams to defend.
Forward Brionna Pate and guard Tiana Edwards both registered 12 impressive points for Winston-Salem State. They both had four rebounds, but Edwards was only able to make 20 percent of her shots (3-15) thanks to the stingy Shepherd defense.
Even though Shepherd played very efficiently offensively by making 47.5 percent of their shots (28-59), Eckleberry gave praise to the Winston-Salem State Rams.
"Winston Salem is a great team. They played zone [defense] the whole game so that was a challenge for us to stay discipline[d] and work the ball around."
In preparation for Sunday afternoon's 1:00 p.m. game against Shaw in the second and final game of the CIAA MEC Conference Challenge, Eckleberry cited the need to show the same effort as Saturday afternoon.
"We need to be focused and have the same energy we had today."
On Sunday afternoon, the Rams will aim to push their record to 2-0 on the young season with a win over Shaw.
Information from the Winston-Salem State University Rams Athletics' website was used in this article.
Anthony Bracken is the Sports Editor of The Picket. He can be reached at abrack02@rams.shepherd.edu