There have been three cases of harassment reported from June 5 through June 12, according to officer R. Casey Yonkers of the Shepherdstown police department. Yonkers said none of the women were abducted, and said there was no threat of abduction.
On June 5, a white male in his 20s with a southern accent driving a black pickup truck was telling women by the Shepherdstown post office that they had dropped something, Yonkers said. The man did this twice within five minutes before leaving the area, Yonkers said.
Around 7 p.m. on June 11, while walking to Sheetz from Miller Hall, a woman was approached by a bald black male with glasses in his 30s to 40s in a maroon car and was asked where she lived and what her phone number was, Yonkers said. The woman is part of the theatre troupe visiting Shepherd University over the summer.
"The woman did not reach out to us directly, but instead to a third party that I cannot disclose. We had received an email containing the information of the harassment from an unnamed third party," Shepherd University Police Department's Chief of Police John McAvoy said.
McAvoy said this was not an attempted abduction and has not found the person who is the cause of concern.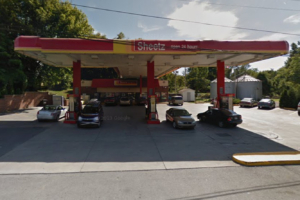 In the last case on June 12, a white male approached a woman pumping gas at the Sheetz in Shepherdstown, Yonkers said. The suspect was said to have been staring at her, checking her out, and stating, "Oh, that's a good one," Yonkers said. The suspect was accompanied by four other men who remained inside of their white work van.
Yonkers said, "I don't perceive it as a real threat. It seems as though these men are trying to get to know them [the women], except for the post office one. The post office is busy during that time of day as people go to pick up their mail. We're not sure what that one is about."
"No crime has been committed as there has been no physical touching," Yonkers said "We would like to talk to these men, but we don't have any tag numbers or photos to help locate these men. There's just not enough evidence to find them."
Residents were originally notified of two events via a post made on the Shepherdstown Community Facebook group page on June 11 at 8:24 p.m.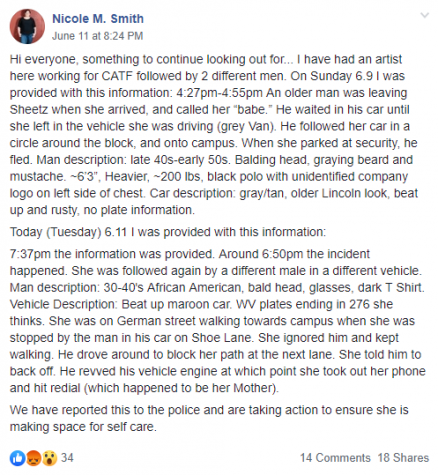 A broader audience was then notified when the Shepherdstown Sweet Shop Bakery made a post on its Facebook page on June 12 at 3:07 p.m.
Shepherdstown police did not make a public notice.
"No, we did not send anything out. We don't usually post on our Facebook page, we leave that to The Journal. The Journal just does a list of calls for service. We put out press releases and calls for the public's help when needed. We do have directive patrols and notify each other through emails of suspicious activity since we don't physically see each other," Yonkers said
"The women didn't call 911 or the non-emergency line," he added. "They need to call and report at that time and not wait days or hours afterwards to contact us, otherwise it greatly decreases our chances of finding the persons involved."
Some residents in the community have been doing their part to help keep each other safe. Zachary Bishop, an employee of the Shepherdstown Sweet Shop Bakery, has been accompanying his co-workers to their cars when they ask so they aren't walking alone.
Bishop said, "I feel safe in town, but I wouldn't walk by myself."
Juneau Daggs, a student and resident of Shepherd University, has also been accompanying his roommates on any walks they take.
"I want to make sure everyone stays safe," Daggs said.