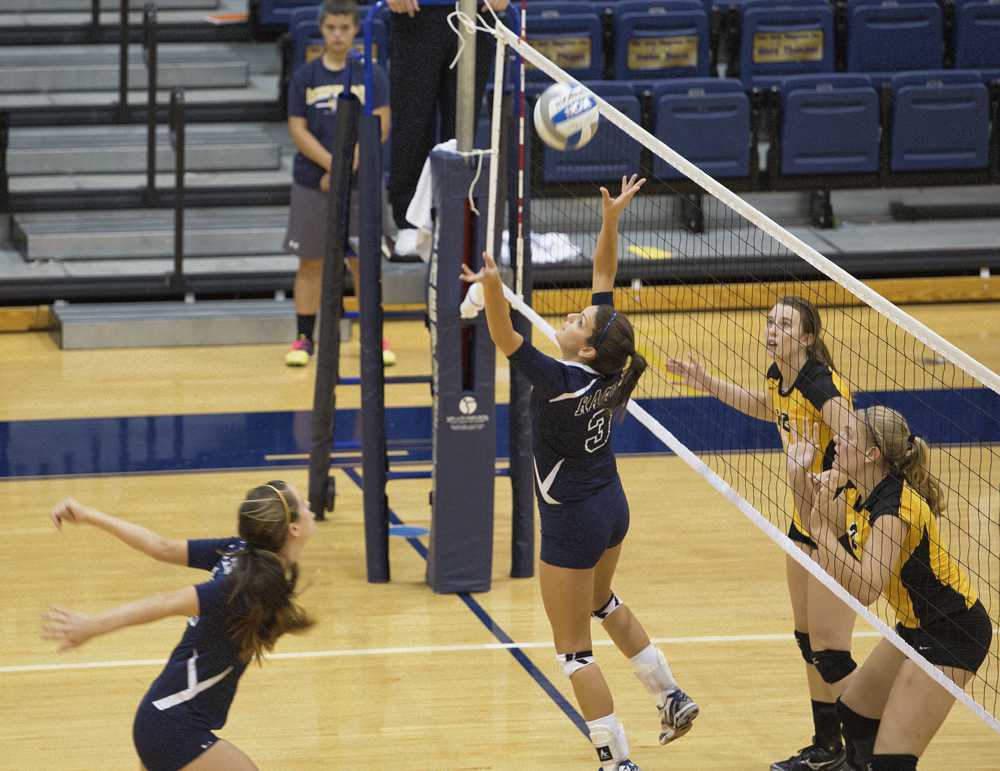 Right now, the Shepherd University volleyball team sits just above the .500 mark, with an overall record of 10–8, but are a much more impressive 5–2 in Mountain East Conference play. The Rams had a chance to move far over the .500 mark over the past week; however, that was not the case.
The Shepherd University volleyball team traveled to Fairmont State to take on the Fighting Falcons last Tuesday. The Rams' long road swing ended poorly, falling 3–1.  The Falcons won the match by a score of 25–22, 25–19, 23–25, 25–14. One would hope that the last set would have been closer. However, that was not the case.
Bay Shore, N.Y. native Melani Lewis recorded 13 kills and 10 digs to pace the team. Junior Ohio native Valerie Bour added 10 kills and Virginia Beach resident Tommie Jo David added an impressive 20 assists to go along with 10 digs. All the sets were close, apart from the set that ultimately decided the match. Things would not improve against Wheeling Jesuit.
Unlike the previous match, the Rams would fail to win a set against the Cardinals, falling 3–0. The Cardinals would defeat the Rams 25–16, 27–25, 25–15. To put it lightly, the Cardinals won in convincing fashion. Senior Meg Kenny had six kills while the aforementioned Lewis had five kills, as did Valerie Bour. Lewis recorded seven digs while Bour had six. Junior Maryland native Taylor Belella picked up 14 assists on the day while Tommie Jo David had 12 assists and two aces. It was a rough first night back home for Shepherd.
Things got back on track against the Hilltoppers of West Liberty. The Rams would post a 3–1 win, winning in four sets 25–23, 25–20, 15–25, 25–20. Belella posted an amazing 27 assists while Tommie Jo David added an impressive 18. Lauren Summa had 25 digs, while Valerie Bour added 13 to go along with Lewis' 11. Lewis had 14 kills, Kayla Walker had 13, Bour added 7 and Katie Beecher recorded 6.
After losing a few matches in succession, it was good to see the Rams get back on track. If they can win a few more, an above .500 season should not be much of a challenge. The Lady Rams have West Virginia State, Charleston, the Indiana University of Pennsylvania, Glenville and West Chester coming up on their schedule. Hopefully they will be able to parlay their win over West Liberty into some more Mountain East Conference victories.