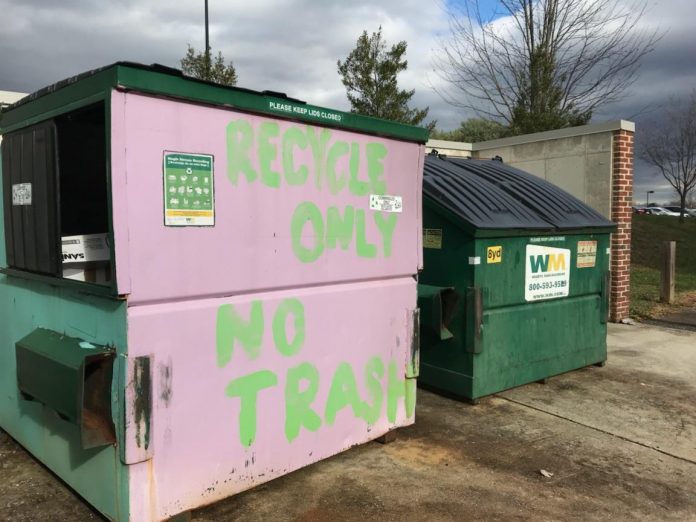 Various rumors have spread around campus regarding recycling practices. Many believe that the recycling bins get dumped in with the trash and are sent to the dump. According to a Shepherd University official, this is not entirely true.
The issue with recycling on campus is not that it is disregarded by management, but a failure of understanding from students and staff, according to Matthew Ware, assistant director for grounds and custodian services at Shepherd.
The misconception is likely because all trash, including recyclables, get picked up by the same truck, Ware said. Everything is then sorted at a separate location. The real problem is contamination, he said.
"If we have a full bag of aluminum cans and someone throws a water bottle in it, then it's contaminated," Ware said. This extends to food residues such as grease on a pizza box or 'wishful recycling' like holiday string lights, which can both disrupt the recycling process.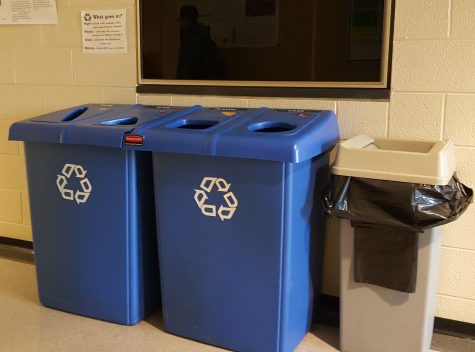 These guidelines may seem extreme, but the University doesn't make the rules, Ware said. Ware and his team are following protocol determined by Waste Management, the parent company that handles the processing of recyclables. Waste Management is one of the largest waste companies in the country.
"If the recycling dumpster is contaminated, Waste Management will send us a charge to have a trash truck come out and pick it up," Ware said.
Ware said if the option to clean a contaminated recyclable is unavailable, it's better to throw it into a trash can.
"Pay attention to where you are putting it," Ware advised. "You are better off carrying it another 50 feet to the proper can." If you are unsure whether an item is recyclable at all, contact your local municipality.
The issue of contamination is not unique to Shepherd, it is a countrywide phenomenon. Many of the recyclables are shipped overseas to manufacturing countries such as China. As recently as January 2018, China introduced a ban on 24 types of solid waste and added a 0.5 percent contamination threshold.
This new ban has sent the recycling industry in the U.S. on a whirl. According to the National Recycling Coalition, it is American's fault for not addressing the problems sooner. "The public wants to recycle, but they express that enthusiasm by recycling materials that are not eligible," said executive director Marjorie Griek in a press release following the ban. A combination of 'wishful recycling' and a lack of clear enforcement has led to this outcome, according to the coalition.
Other countries have different recycling programs established. Kevin Wilson, a Shepherd student native to Germany, said that all residential homes are required to recycle and that there are clearly labeled waste bins in front of all buildings. He added that these laws also apply to businesses.
Wilson said that even recycling things such as dead batteries are normal and expected in Germany.
"Not all [American] citizens seem to be aware of these social guidelines, which in Germany are considered to be standard throughout the country," Wilson said. He pondered the question of whether the vast size of the U.S. is to blame for the recycling dilemma, or simply cultural differences between U.S. and German citizens.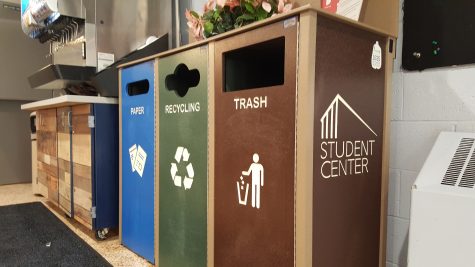 With concern for the environmental and social impacts of waste growing worldwide, localized programs are popping up to help address the problem. Every spring, the Boonsboro Green Fest takes place in Shafer Park, Boonsboro, Maryland.
Just 20 minutes from Shepherdstown, the day-long event consists of music, food, local vendors, and most notably a recycling zone, which accepts a wide variety of items not usually accepted in roadside pickup, ranging from toothbrushes to broken electronics. The goal is to "promote recycling and green initiatives," according to their website.
Ciera Clawson, an environmental studies student at Shepherd said that individuals should make conscious efforts to reduce their waste. "Reuse things," Clawson said. "Get reusable items such as water bottles, reusable bags, or eating utensils." She says once you make a habit of bringing those items with you, it's easy to always have them handy.
Clawson has even designed her own simple composting bucket to eliminate food waste in her apartment. "It was really easy to make. It's just a five-gallon bucket and it works perfectly fine," she said. She noted that if you can't compost to at least be mindful of how much food you buy, especially somewhere like the buffet on campus. "Only get enough food you think you will need," she said.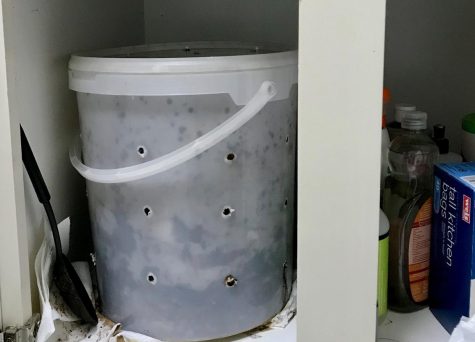 Ware and his team are working on revamping the recycling bins on campus to make it clearer what should go into the bins. While the recycling system is not perfect, Ware says it is important that people are mindful of their habits.