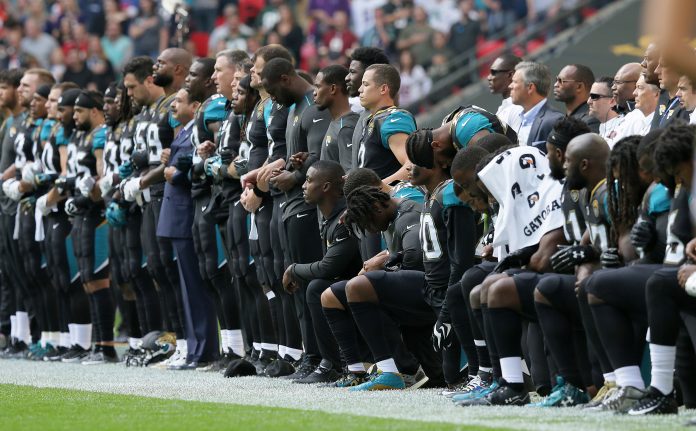 (THE PICKET) – In recent years there has been headline after headline about unarmed black men being gunned down by police officers. Each time an incident took place there would be an uproar from all nationalities. The uproar mainly came from social media where people shared their thoughts and opinions on the situation. Yet it was a sporadic debate at best. The topic of racial injustice just went on into the wind and the conversation was over. There would be hashtags for the incident, it would be the trending topic on social media for weeks and would be forgotten in an instance.
In 2016 former San Francisco 49ers quarterback Colin Kaepernick decided that he was going to be the spark in the uproar by kneeling during the National Anthem before NFL football games. After Kaepernick took a knee social media responded. There were some who were against him for "disrespecting the American flag," and some who thought he was courageous and respected that he chose to stand up against racial injustice in America.
"It's to bring awareness and make people realize what's really going on in this country. There are a lot of things that are going on that are unjust, people aren't being held accountable for and that's something that needs to change," Kaepernick told CSN Bay Area.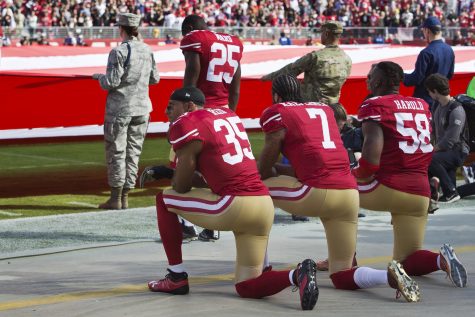 On one of the biggest stages in the world, Kaepernick risked making not only the sports world uncomfortable, but the entire world. For change to take place, being uncomfortable is exactly what the world needs.
Athletes began to take similar action by kneeling in support of Kaepernick's message. NFL players Eric Reid of the San Francisco 49ers, and Brandon Marshall of the Denver Broncos were the first two players to kneel after Kaepernick. Not only were professional players kneeling, college athletes began to support the cause as well.
D'Angelo Niler, a former Shepherd University linebacker chose to take a knee during the entire D2 NCAA football playoffs.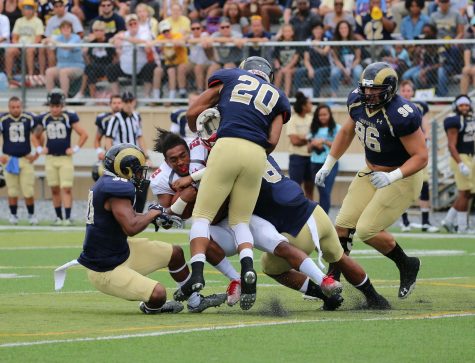 "Racial injustice needs to be heard in America… I didn't care about any reaction from fans, coaches or teammates because I knew what I was kneeling for, "Niler said.
Last week President Donald Trump made a statement about players who kneeled that shocked the entire NFL as well as the world. The president of the United States stood in Huntsville, Ala. and called people exercised their rights by kneeling during the National Anthem "sons of bitches." In every game this past weekend, the NFL chose to show unity by locking arms while more players kneeled.
Were these players kneeling for the same reasons as Kaepernick, Reid, Marshall, and Niler, or was it because of the comments Trump made toward them? Has taking a knee become the "popular" thing to do?
Not one person knows whether the kneeling will stop in the NFL, or even if or when change will happen to end racial injustice. Kaepernick made a sacrifice for not only African Americans, but all people in the world who have not received justice and who are not free. This conversation will not go away until true change has been made.
Ryan Sturdivant is a Sports Writer for The Picket. He can be reached at rsturdivant19@gmail.com