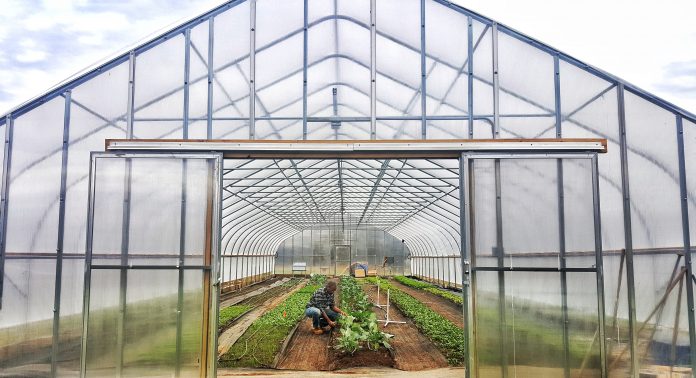 Shepherd University's environmental department received a $600,000 grant to grow food at Tabler Farm, two miles west of campus, in a high tunnel greenhouse.
The 30 foot by 100 foot greenhouse, which was partially funded by the grant, is designed to extend the growing season of food crops throughout the year. The next phase of improving Tabler Farm is fencing in an acre and a half outdoor plot for spring crops, which will include fruit trees such as peach, pear, apple, and even kiwi.
On Saturday, Nov. 10, a breezy fall morning, the Environmental Department hosted its first open house tour of the farm. Hot cider and cookies were served, and visitors were offered bags of freshly harvested salad greens from the new greenhouse.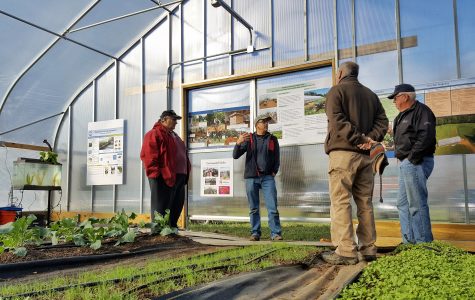 Throughout the morning a steady flow of curious community members explored the new project. Those involved with the program explained the plans moving forward.
Dr. Peter Vila, a professor of the environmental department who is the director of Sustainable Food Production and coordinator for the Vets to Ag program, attended the open house. Both these programs were established with the grant to revive the university farm.
Vila described how the farm is working with the Martinsburg VA hospital to prepare veterans for the program.
"We're trying to get veterans into farming at a small scale to make it a viable career choice," he said. Part of the project offers economic classes so aspiring farmers will know how to run a small business.
According to Vila, as the program grows, the plan is to incorporate other aspects, such as goats and chickens, an apiary for beekeeping and mushroom farming.
"The goal is to have this as a learning/research farm so that people can come here, take the courses, and actually apply what they've learned," Vila said.
The farm is intended to encourage economic, social, and environmental sustainability.
"It's not a commodities production, we are not here for the large grains like corn or feedlots, we're here for small scale production," Vila said.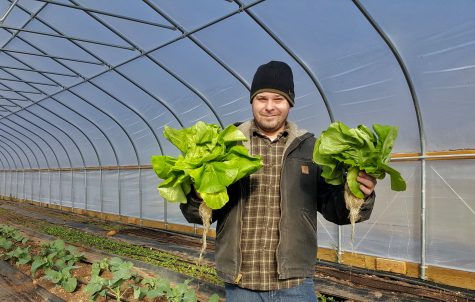 Some 22 varieties of cold-hardy leafy green crops such as spinach and broccoli are being grown in the tunnel greenhouse and can be grown in the winter, giving farmers a head start on spring farmers' markets.
Plans are for the farm to become a supplier for campus dining services to provide students with local, healthy food options. Vila wants students to not just see how the food is grown, but eat it and taste the difference from conventionally produced food.
Karlie Murray is a Shepherd student studying environmental science. She is a part of the program through a one-credit class offered this fall entirely based off the farm. Murray said it is important for people to learn how to be self-sustaining and added this farm can provide that opportunity.
"Food is a necessity to life," she said. "You can't do anything without eating first."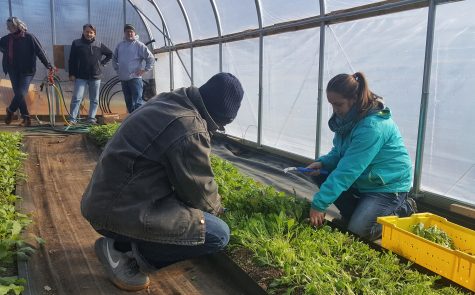 Throughout the morning various students involved with the farm helped farm manager Haroun Hallack harvest and prepare greens for folks to take home and label the variety of crops, so viewers can identify them.
Hallack is a lifelong organic and small-scale farmer. He is passionate about growing food in the best way possible and sharing that knowledge with students. "We want to provide opportunities for people with limited resources to learn different techniques and systems that they can eventually apply to their own operation," he said.
He wants the farm to not just supply students with the resources needed to grow food on their own but inspire them.
"You can grow food anywhere. You can grow it on rooftops, in windowsills, even inside." He said. "If you have that foundation and the idea that this is what you want to do, then suddenly there is realm of possibilities to grow whatever you want," he said.
The farm will also provide other outdoor classroom opportunities. Steve Shafer, an environmental professor, flies a mini drone inside of the high tunnel for visitors to see.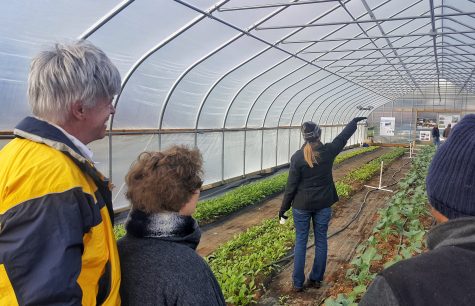 Shafer said that in his new class to be offered this spring, students will learn how to fly a drone.
"It is designed to get students ready for their commercial drone pilot license," he said.
Knowing how to fly a drone will be useful for a variety of applications such as insurance, agriculture and geology, he said. The farm will provide space for obstacles and trial runs for students in a controlled environment.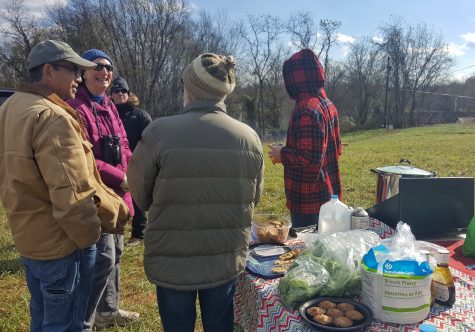 "We have here the start of a beautiful program that is unique to the area," Vila said, noting that some visitors expressed support and a desire to get involved.
"That's our purpose," he said.  "It is very, very exciting."