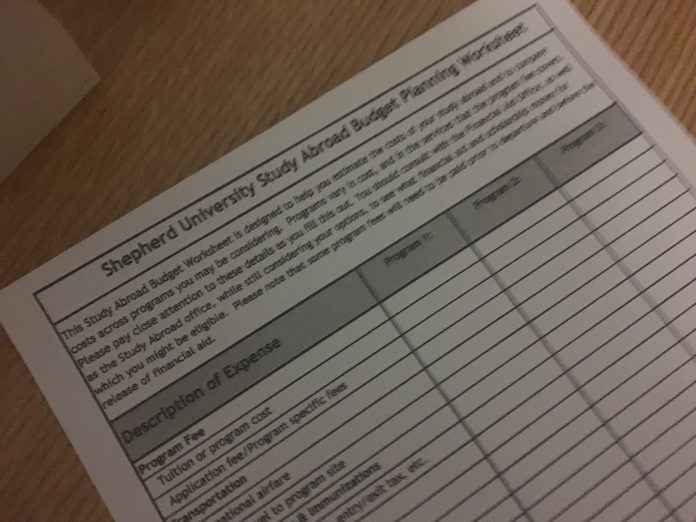 To many students at Shepherd University the thought of studying abroad sounds like an impossible idea that would require taking out more student loans. However, on Jan. 18th, Shepherd's Study Abroad Club held the first of two lectures intended to educate students who wish to study abroad.
Study Abroad Club's president Rebecca Kamp described organizations that allow students to study or travel abroad.
"The Japanese Exchange and Teaching Program accepts English-speaking students to teach English in Japan," Kamp said. "But you need to complete your B.A. before applying."
Lane Rover, who graduated from Shepherd in 2011, has studied and worked in Canada, France and Germany.
"When I attended Shepherd University I minored in French," Rover said. "So, I knew I wanted to visit France and study there. There were so many programs in France I could choose to study at. I chose the program I knew I could financially cover completely. But looking back, I wish I'd chosen something different and worked with financial aid to save money."
Danielle Duvall works in Shepherd financial aid and helps students make a budget for their trips.
"I never want to sugar coat how much it's going to cost a student," Duvall said. "But I always tell them that a penny saves dimes. Take any money you have and put it into your back account. Don't let it sit around, because then you'll be tempted to spend it on something small."
Duvall said students need to work with financial aid as they begin planning their trip.
"I've had students call me on the plane to Africa asking how they can fit it into their financial plan," Duvall said. "You wouldn't believe me, but it's true. If you know what country you want, contact me as soon as possible."
Kamp originally had a different plan for her study abroad trip.
"I originally wanted to spend a year in Prague," Kamp said. "But then I saw the prices. You sometimes have to put your priorities in place."
If you or someone you know is interested in studying abroad, the Study Abroad Club will hold another presentation in the Potomac Room at the Student Center on Feb. 15th.