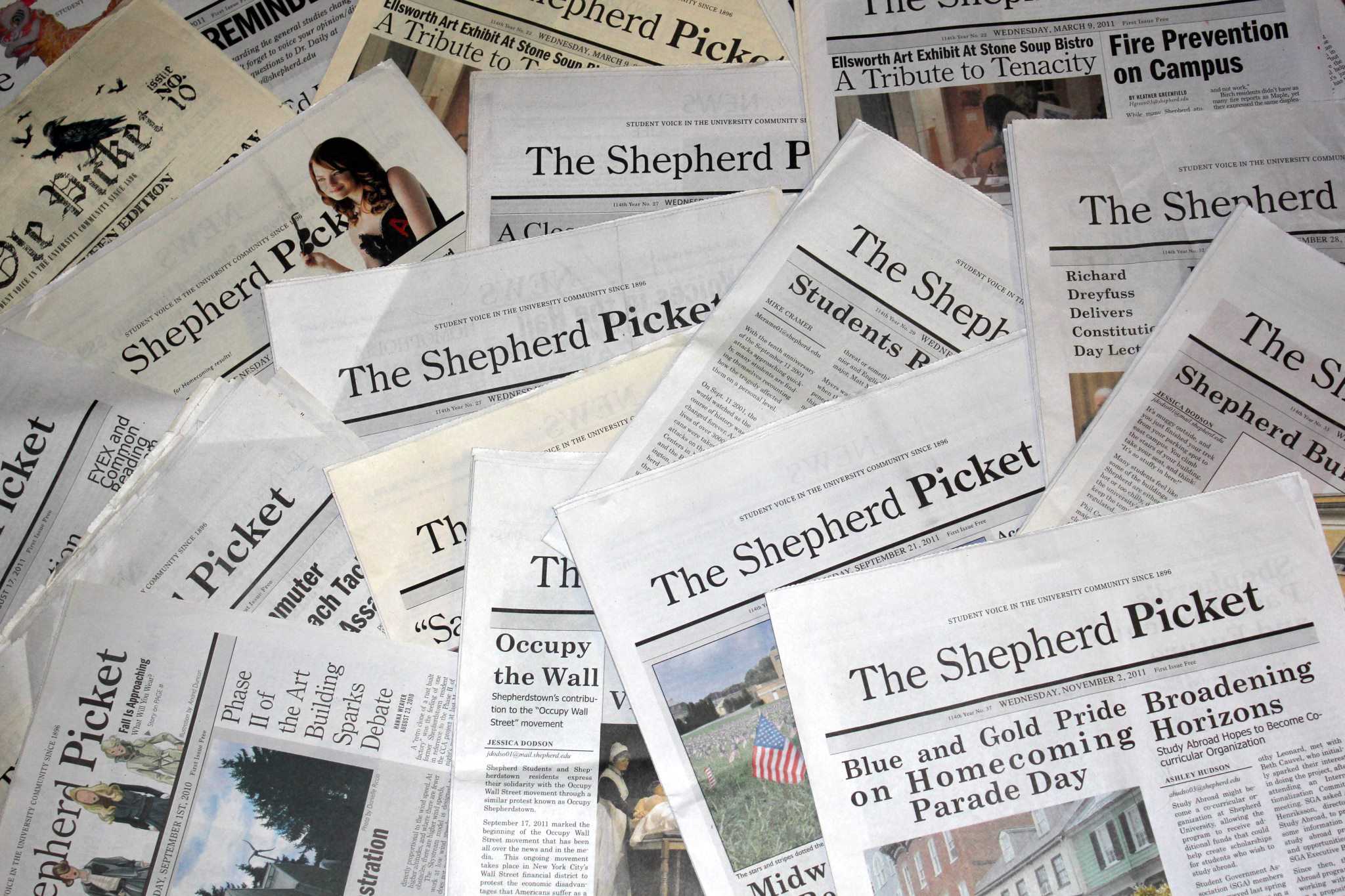 The Picket is overhauling its online footprint to commemorate an official relaunch as a digital student newspaper here at Shepherd University on Nov. 15. The renewed focus, according to Editor-in-Chief Jessica Sharpless, will be to enliven the paper and engage with various social media platforms available on the internet.
Sharpless, who recently attended an Associated College Press and College Media conference in Texas, is working long hours to invigorate The Picket's online profile.
"The convention has two major focuses," she said, "one is to look at how we can do more with our publications, [but] the convention also has time for critiques of publications and web media."
From what she learned at the convention, Sharpless intends to implement sweeping changes and ignite the online presence for The Picket on popular social media platforms like Facebook, Twitter, Instagram and YouTube.
"You can expect to see our new logo and look showing up on all The Picket's platforms," she said. Sharpless expects these changes to bolster it as a socially engaged web-based site, tagging individuals and groups linked to The Picket's news stories and broadening the newspaper's digital footprint.
"We are so much more than a newspaper," Sharpless said. "Part of the relaunch is to show what we have become."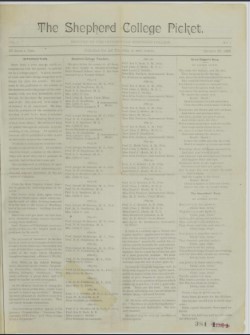 While Sharpless appreciates the classic element of newspapers in print, she says that times have changed, and "you can't really put a video in a printed newspaper." Sharpless, who took her role as editor-in-chief after the former editor, Hayley Butler graduated, decided to pursue the online changes begun by Butler.
"My history with The Picket means a lot to me," Sharpless said. "When I came to Shepherd I had thought that I'm too old to get involved with on-campus organizations." But it was a former faculty advisor for The Picket, professor James Lewin, who inspired her to enter the field of journalism—beginning with the publication she now leads.
Lewin operated as the faculty advisor for The Picket from the mid-1990s to 2014. He began a career in journalism, writing as a freelancer for major newspapers like The Chicago Sun-Times and The Chicago Reader.
As time went on and the grind of journalism disillusioned him about the realities of war and life during his reporting on the conflicts in Lebanon during the late 1980s, Lewin decided to seek his PhD at the University of Illinois after 16 years as a freelance journalist.
After writing his dissertation in Shakespeare studies, Lewin found that his credentials as a freelance journalist led him directly into a tenured professorship at Shepherd University, which was looking for a professor to be a part of the journalism department. "First, you have to know, the scariest thing in the world was the academic job market," he said, adding that the daunting task of finding a job as a professor rivaled even his time in Lebanon, which was marred in a bloody conflict.
Landing at Shepherd University was perfect for Lewin. "Serendipity," he said, "the fact that I had the journalism background was really important—that's what got me in the game—winding up in Shepherdstown was so wonderful, like, wow, what a cool place." But taking over as the faculty advisor for The Picket was the game Lewin didn't expect to play.
He had appreciated The Picket since his arrival to campus, but his predecessor, Bob Naylor, had up-and-vanished, according to Lewin. At that time, Lewin says, "The Picket was a fairly moribund publication," which he set out to remedy.
Like Sharpless, Lewin also attended an American College Press (ACP) conference to learn how to increase The Picket's profile in 1997. By the end of Lewin's tenure in 2014, The Picket would achieve a three-star rating by the ACP, an organization that rigorously reviews student newspapers across the United States.
As The Picket relaunches now, it seeks to redefine itself and make a testament to what it has become, but to do that new faculty adviser Joyce Barrett, who succeeded Lewin in 2014, seeks to ensure the long legacy The Picket possesses is preserved.
With a steady eye on the value of free reporting and well-sculpted writing as a media trainer, which Barrett has passed to dozens of other would-be reporters across the African continent, the Middle East and Asia, Barrett ensured that Sharpless was able to attend the ACP conference in Dallas.
But Barrett also carved and helped to place the cornerstone for The Picket becoming a digital news source, although she misses her ventures overseas.
Given her strenuous and often dangerous duties of training journalists in emerging democracies and military dictatorships, Barrett worried about teaching journalism in the United States. She was evacuated from the Republic of Georgia in 2008 when Russia seized a northern region and bombed the outskirts of Tbilisi, where Barrett was working. Government spies routinely attended her media classes in Burma and reported on the "sugar-coated poison" she spread when advocating a free press. While working in Iraq during the height of the war, the base where she was working was mortared.
"I was overseas teaching people who very often weren't living in a democracy, and they were confronting very steep odds," against a free press, she said, "I was sort of worried about coming back to the [United] States, because by African or East Asian standards, journalism students here, I was afraid, aren't as hungry to learn."
She taught journalism at the College of Charleston in South Carolina before arriving at Shepherd. Advising The Picket and training its journalists and staff presented opportunities for Barrett to pass on the craft she adores without espionage or threats.
"I'll never work for a newspaper again, but this is a way of staying in the game and perpetuating the trade," Barrett said. "I get a lot of reward out of teaching students and making sure they stay up on current events and making sure they now how to write a good news story and read a good news story, teaching them to know the difference between an editorial and news—I just want [journalism students] to know how to write a good news story—journalism is a front row seat on life," she said.
The Picket, even before Barrett and Lewin's ambitious impacts on the newspaper as faculty advisers, has a legacy that rivals even the prestigious Yale Daily News, the student newspaper for Yale University, which considers itself the oldest college daily in the United States on its Twitter homepage. The Yale Daily News launched in 1878, and the Picket has been publishing since 1896.
Such a legacy would be impossible without staunch supporters and readers, like chair of the Division of Arts and Humanities Dow Benedict. Lewin credited Benedict with admiration for helping the paper survive as a print copy, and eventually transforming it into a digital publication. Barrett said Benedict is The Picket's champion. Such is the life for a self-described news junkie from the 1960s, though, according to Benedict himself.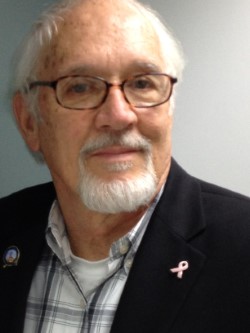 "I was raised in a family that was consumed with national and local politics, so I've been rabid about that," he said, "Right now, I subscribe to three publications, the New York Times and two others," and the Picket, which doesn't operate on subscription, competes among them, said Benedict, too humble to cast a parade for his support of the Shepherd publication.
"The only way democracy survives," Benedict says of his support for the Picket and journalism, "is by having people who can talk about the issues."
The new digital platform for Benedict is both efficient and time-friendly. "The Picket is online now," he says, "something I was trying to do 10 years ago." While Benedict likes a physical paper, he appreciates the need to appeal to a fast-acting and news-hungry student audience, and the future lay in digital publication.
Lewin, too, doubled-down on his commitment to print journalism, but as Benedict says, "That's fine, but it's of [his and Lewin's] age." The solitude of stretching open the pages of a newspaper are welcomed vestiges, but appealing to a modern audience occupies the front row of the picture-show today.
"I don't have time for that anymore," Benedict said on the nostalgic sensations of print-only-press. "Whatever has happened in my life, maybe I'm less efficient or whatever, but now I can only glance at headlines, and I'm not sitting anymore when I read the [printed newspapers], I'm standing in the kitchen."
The audience for The Picket, according to Benedict, is students. "They're the ones who are paying the bills," he said, "so producing a newspaper in print form—even if I like it—isn't serving them. They want and get their news on a mobile device, and that's more important."
For readers, just as Editor-in-Chief Sharpless intends to ensure that the relaunch lays a ground work for her successor, Benedict too identifies efficiency as the primary motivator for expanding The Picket's audience. "The design is much stronger than the Shepherd University website," says Benedict, but he wants to create an attractive, advertised product. All those news shelves on campus where copies of The Picket used to take up room? Benedict suggests they be replaced with advertisements for the new digital front, and that will be up to Sharpless.
"When I joined The Picket, I went from arts reporter to movie reviewer to the Arts and Style section editor," Sharpless said.
"Sometimes I wonder how I did it," she added, remarking on her adaptation from a person who she believed too old for university organizations, to now editor-and-chief of the university newspaper. "It has shown me a lot about what I want to do…[The Picket] is a publication with a long history from its print days to now, I just want it to keep moving forward and engaging students, with the paper being their voice and source for information." she said.
On the heightened platform of its massive relaunch, trudging up the steps of social media, The Picket fancies itself as illuminating culture one story at a time. In the coming weeks, Sharpless hopes to fill up the shadows of social media and other dark corners inside the digital world with a renewed commitment to being a legitimate web-based news source—more than just a newspaper.