Starbucks has opened inside the Fireside Bistro and students are lining up for coffee drinks and snacks.
"It wasn't the best, but I think in due time it'll get better," said student Justin Cole, who ordered a caramel macchiato.
Meanwhile, another student, Hailey Mauzy who ordered a strawberries and cream frappuccino, said, "I'm not really sure how I feel about the Starbucks yet since they don't really have any transparency on what's covered on the meal plan or not, so hopefully they'll get that later on."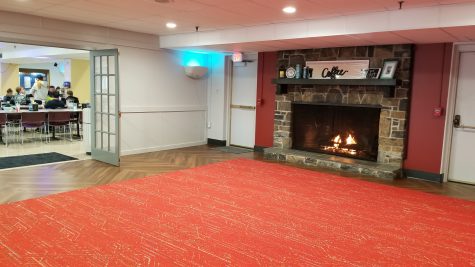 With the opening of Starbucks, the Fireside Bistro also got a complete remodel to accommodate Starbucks' style. The Bistro now has a minimalistic style with neutral colors and small pops of red surrounding the seating areas. While the area in front of the fireplace remains bare for now, there is some new soft furniture being shipped to Shepherd to fill in the space.
Starbucks brings not only a new look and new drinks to Fireside, but also new food options including sandwiches, salads, breakfast, sweets, and gluten-free foods. It also accepts dining dollars and meal swipes, however, both faculty, staff and students are still trying to figure out what combinations will fit on one meal swipe. Although, it is known that students can use a meal swipe to buy a drink.