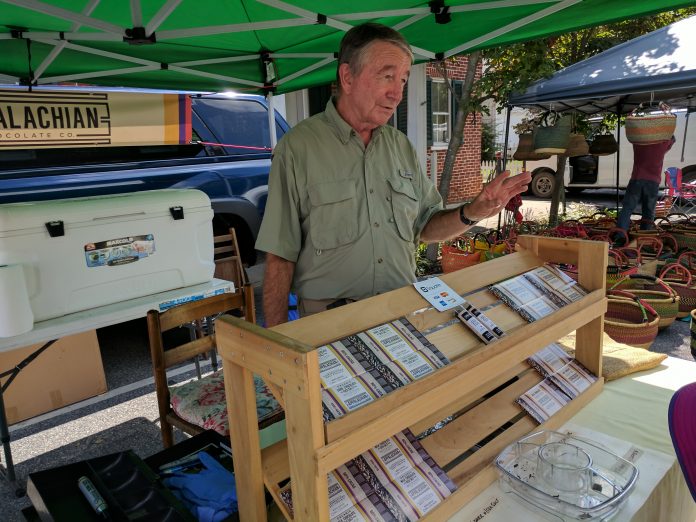 The Shepherdstown Farmer's Market shines like a beacon every Sunday, luring patrons with the sights and smells of produce and handmade goods. One man has made a name for himself selling some of the best chocolate around.
Jack Meyer has been about the chocolate industry for a little over three years. All of his chocolate is made in his home north of Shepherdstown, all homemade with imported beans from Ecuador and Peru.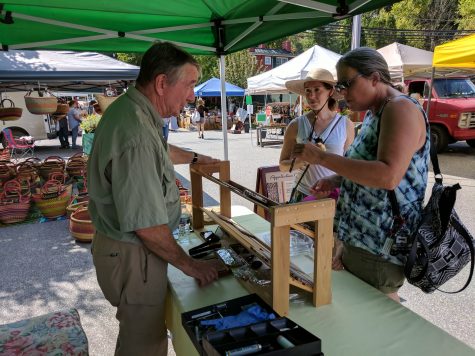 "I liked the flavor of the Ecuador and Peruvian beans," he said. "I buy them in 65kg bags (155 lbs.)… The UPS guy asks when I'm getting another order so he can plan his vacation," Meyer joked. His company is named Appalachian Chocolate Company LLC.
Another key ingredient in some of his bars is the salt. Meyer sells 80 percent cacao chocolate bars that have sea salt from Malden, West Va., through his connection with J.Q. Dickinson, a West Virginia salt company based in Malden since 1813. The salt comes from a 400 million year old seabed – the Iapetus Ocean – below the Appalachian Mountains in Kanawha County.
The company collects a brine from underground and evaporates it in specially designed sun houses to obtain the salt crystals.
Meyer also makes special, smaller coffee-infused chocolate bars that have a higher amount of caffeine. "Chewing one will get you about 30 miles on the road," Meyer said with a knowing grin.
Meyer's business has been growing, and he has expanded his chocolate to some local and farther-away areas. His chocolate can now be found in O'Hurley's, Mellow Moods, and The Local Source in Shepherdstown, as well as Black Dog Coffee in Shenandoah Junction. His chocolate is also sold at locations in Davis, West Va. and at the J.Q. Dickinson gift shop in Malden, West Va..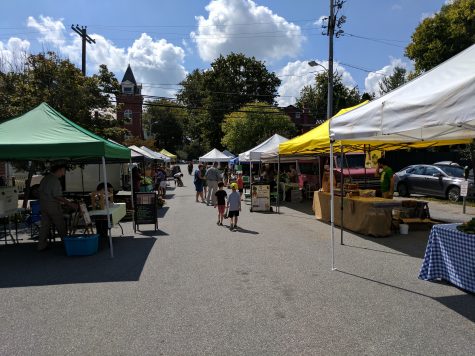 "I'm going to continue." he said, "Eventually what I'd like to do is use my profits for an issue in the state." Meyer explained that he wants to be able to help with problems in West Virginia to make an impact. In an article in The Observer, Meyer explained how he once ran a fundraiser to buy dehumidifiers for Rainelle, West Va., due to the floods in 2016.
Meyer has had many journeys including working as an investment broker, a private contractor in Saudi Arabia, and owner of a septic tank hauling business, which led to Potomac Portable Restrooms.
More information can be found through the following links:
Meyer's Appalachian Chocolate Co. http://www.appalachianchocolate.com/
J.Q. Dickinson Salt-Works http://www.jqdsalt.com/our-story/
Appalachian Chocolate Co. Facebook Page https://www.facebook.com/Appalachian-Chocolate-Co-LLC-385085901654895/
The Observer article by Mike Chalmers https://wearetheobserver.com/home-grown-hand-made/