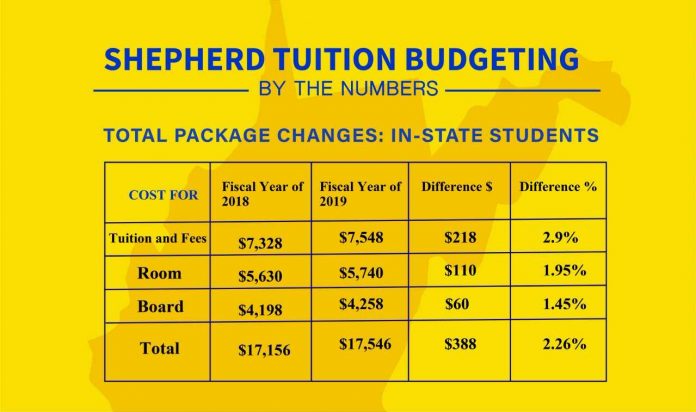 Tuition for in-state and out-of-state students would increase slightly next fall under a proposed budget that was approved earlier this month by the Student Government Association and now heads to Shepherd University's Board of Governors for final a final vote, which will take place on March 1.
As Shepherd University's budget has tightened significantly since 2013 when the state began making major cuts in higher education spending, University administrators have struggled to make ends meet. The challenge has heightened as enrollment continues to decline.
To ease the gap in appropriations, tuition and spending this year, the University is taking several cost-cutting steps including personnel cuts and outsourcing University services. Pressure to keep tuition hikes to a minimum has been a challenge.
"We are creating action plans, short term and long-range plans that are student driven, to help expand enrollment and attract students on campus," Jack Shaw, assistant vice president for auxiliary enterprises at Shepherd told SGA.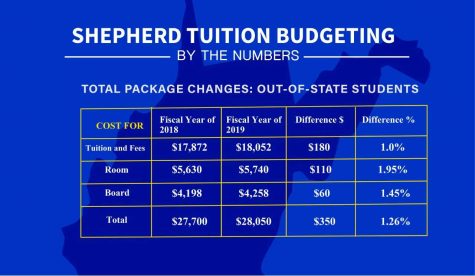 In-state undergraduate tuition would rise $110 in the fall to $3,774, and out-of-state undergraduate tuition would rise $90 to $9,026. Graduate in-state costs per course hour would rise $14 to $459 this fall, while out-of-state graduate costs would rise $24 to $660.
The average costs of room and board would rise 1 percent, while dining costs on the Basic 19 Plan would rise $75.
To reduce spending, the University has proposed not filling 20 open jobs, which include faculty and administrators. Also, some jobs would be merged. Energy conservation measures that include raising thermostats and removing light bulbs will continue, maintenance and capital projects will be deferred, and outside contractors will take over operations of the bookstore and dining services, according to a budget outline.
"What's really exciting is we are outsourcing certain things on campus such as the bookstore and the dining hall and these companies we are outsourcing to are willing to invest money to renovate buildings or things that need fixed on campus," Shaw said.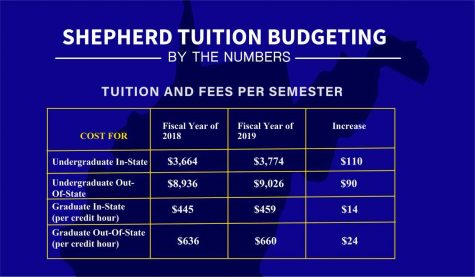 The West Virginia legislature has cut higher-education spending by $1.9 million, or 17 percent, since 2013. Shepherd, meanwhile, gets the least from the state than any other college or university. Shepherd has kept in-state tuition and fees lower than any other comparable institution in West Virginia, Virginia, Maryland and Pennsylvania, according to University documents.
University enrollment nationwide is down as the high school population declines and some high school graduates seek to enter the job market rather than continue their education. To counter that Shepherd has mounted recruitment campaigns in the nearby Virginia counties of Loudoun and Fairfax. University promotion efforts also have been boosted to attract more students.
Anthony Bracken is the managing editor of The Picket. He can be reached at abrack02@rams.shepherd.edu