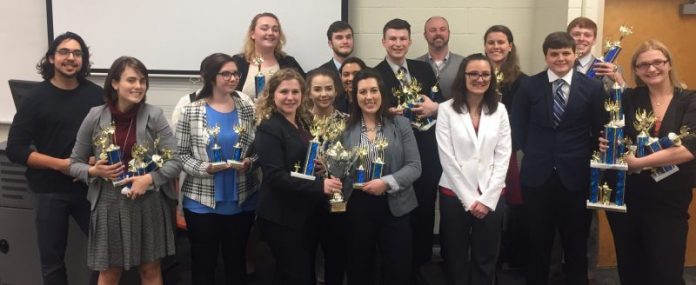 Shepherd University's Debate and Forensics Team took first place at the West Virginia Intercollegiate Forensics Association's (WVIFA) State Tournament last weekend.
The team placed first in the overall team sweepstakes, crowning them the winners of the tournament and naming them state champions. They also placed first in team debate for the third consecutive year and second in team individual events.
Shepherd beat teams from Marshall University, Fairmont State University, and Davis & Elkins College.
This is just the latest in the debate and forensics team's accomplishments, with this win marking the team's third major win this year.
In January they took first place in team sweepstakes at the CFA Winter Tournament in Ottawa, Canada. In early February they also secured third place in team sweepstakes at Marshall University in the Hatfield and McCoy Speech Tournament.