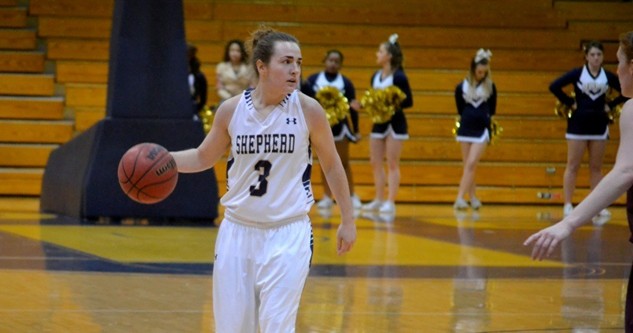 The Lady Rams (4-2, 1-1 MEC) struggled on offense in their matchup against the Millersville University Marauders (2-3), losing 78-60 on Monday evening, Nov. 27, in Millersville, Pa.
The Rams did not look sharp Monday night against the Marauders. They got off to a bad start, and allowed five Marauder players to score in double figures. Shepherd started off with three straight turnovers, allowing Millersville to jump out to an early lead.
Shepherd shot 37.93 percent from the floor in the first half, including a 22.22 percentage behind the three point line. In comparison, Millersville shot 48.72 percent shooting from the floor and 28.57 percent beyond the three point line in the first half of action.
True freshman guard Lauren Lister of Millsersville led all scorers with 21 points.
The Marauders ran away from the Rams in the first half, capitalizing on Shepherd's mistakes. The first half ended with the score 48-25 in favor of Millersville.
The Rams still looked sluggish in the second half, while Millersville looked real comfortable spreading the floor. It was just a rough day offensively for the Rams, who made just 13 of its 33 shots (39.39%) in the second half from the floor. It was just one of those games where Shepherd could not find its footing on offense or defense.
In the fourth quarter, mostly all of Millersville points came inside the paint. That is where they attacked the Rams all game long, driving into the lane and finishing at the basket.
The other points came from turnovers by Shepherd. Millersville had 16 fast break points in part due to these turnovers. The Rams could not find an answer to stop the Marauders, as took their second loss on the season, making them 4-2.
With the talent and experience that Shepherd has, they should be able to put this loss behind them and move forward. The Rams look to redeem themselves Wednesday, Nov. 29, against West Virginia Wesleyan in Buckhannon, W.Va. The game will start at 5:30 p.m.
Justin Cole is a Sports Writer for The Picket. He can be reached at jcole07@rams.shepherd.edu