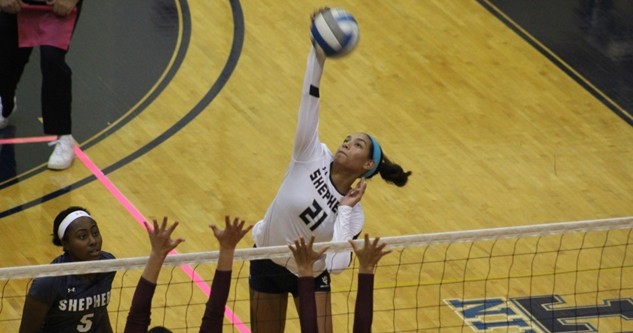 The Rams volleyball team appear to be hitting their stride at the perfect time. With only one game remaining on the regular season schedule against Glenville State, the Rams will look to cap the season off with a six-game win streak.
With three, 3-0 sweeps out of their past five contests, the Rams have made it a point to show the other teams that they belong in the Mountain East Conference tournament.
To make the winning streak appear even more impressive, of the past five games, three of them were on the road and all three times Shepherd came out with a win.
A common theme from the win streak that again appeared Friday night was the efficiency and overall play by the Rams on the offensive side of the ball. For the game, the Rams scored a total of 54 points compared to 44 from the Bobcats.
Rams head volleyball coach Alex Hoekstra spoke on the Shepherd offense and their performance through the current win streak after the game Friday when he said, "We are winning in three sets, but the set scores are still very close, sometimes going well over 25. Our goal is to have all of our weapons firing come conference tournament time."
Friday night's contest against WV Wesleyan saw the Rams lead in almost every tracked statistical category with the exception of blocks as it was an all-around team performance.
The Rams had 43 kills, 38 assists, and 51 digs compared to 31 kills, 28 assists, and 47 digs from the Bobcats respectively.
Hoekstra further elaborated on the Rams offense when he talked about what it can do to opposing teams.
"We have a three-headed monster with Cam (Cambreia Hill), Amanda (Snowden), and Peyton (Lindblad)," he said. "Our opponents have had trouble matching what those three give us."
Rams sophomore setter Jessica Karcz continued her consistent play as she created multiple opportunities for the Shepherd offense with her game high 37 assists out of team total 38. Sophomore outside hitter Lindblad also finished with a game high 14 kills with fellow outside hitter Hill adding 11 kills of her own to the Rams total.
The Rams aim to end the regular season on a high note as they travel to Glenville, West Virginia, to take on Glenville State Saturday, Nov. 11 at 1 p.m. in the hopes of finishing the season on a six-game win streak.
Vaughn can be reached at vbrewe01@rams.shepherd.edu