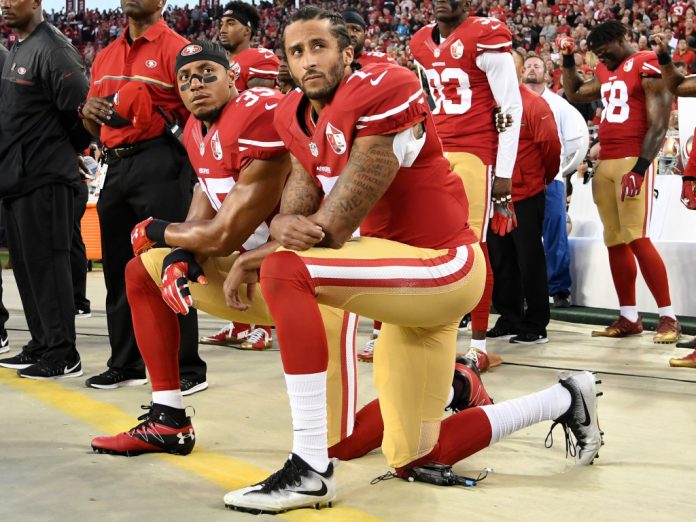 Oliver Wickiser, Sports Reporter
With the NFL season kicking off last night, the New England Patriots looked to defend their Super Bowl crown against the Kansas City Chiefs on Thursday evening, but this was not the only thing on fans' minds as they geared up for the game.
Fans, commentators, and viewers will also see that player protests have heated up in the past couple of months as some are following Colin Kaepernick, the former San Francisco 49ers quarterback, who kneeled during the National Anthem last year. Kaepernick said he declined to stand during the anthem because he was protesting police brutality nationwide.
He is not the only player who protested this way, but he has found himself unemployed this season, as franchises hesitate signing him for fear of creating controversy.
"I believe Kaepernick is a better than average quarterback.  He was in the Super Bowl in 2012 so he's still good enough to play," said Shepherd University junior Dan Hussian, a biology major.
Nathan Borowski, a senior outside midfielder for the Shepherd Rams soccer team and a business major, also defended Kaepernick's ability.
"Kaepernick as a player provided an immediate impact for the 49ers at the time when they were struggling," Borowski said. "I think the organization owes some of their success to him. I don't believe anyone should automatically be on a team he earned it."
Nick Owens a Shepherd sophomore majoring in sociology, doesn't blame NFL franchises for their hands-off policy toward Kaepernick.
"I think it's very disrespectful of him kneeling during the National Anthem and I think that's why he isn't in the league at the moment," Owens said.
Stef Stefanidis, a senior on the defensive line at Shepherd, said Kaepernick should still be playing.
"Honestly, it's a bad look for him and the NFL kneeling for the National Anthem, but people should harden up and get over it," Stefanidis said. "If he's still able to play like he did, he should be on an NFL team right now.  He's not on an NFL team because of his protest because otherwise he's a good player."
Brandyn Paine, a junior communications major at Shepherd, said Kaepernick had the right to protest.
"I believe the American flag deserves respect but kneeling was a peaceful protest, that's his constitutional right.  I can see why people are upset," Paine said.
Borowski noted that kneeling for the National Anthem is a sad commentary on the state of the country.
"If I saw one of my current teammates kneeling for the National Anthem I'd be a little worried because that means he feels strongly that they don't feel safe in this country," he said.
Oliver Wickiser is a Sports Reporter for The Picket. He can be reached at owicki01@rams.shepherd.edu