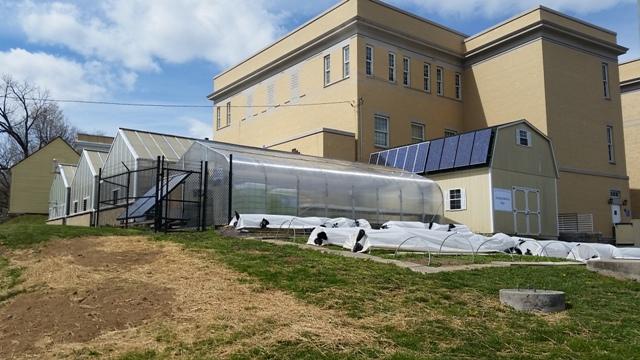 If all goes according to plan Shepherd University may soon be generating most of its own electricity using clean sources, as well as adopting other practices to protect the environment.
The Sustainable Shepherd Project is a "campus-wide initiative aimed at reducing the university's carbon footprint, reducing waste, and setting up Shepherd University as a role model for other institutions seeking to adopt sustainable practices," said Eric Shuler, the director of facilities management at Shepherd.
The most ambitious aspect of the project is its goal of weaning Shepherd off the grid and onto renewable sources of energy. Current hopes are for Shepherd to achieve around 70 percent clean energy production on campus, and eventually become entirely energy independent, according to Shuler.
The specifics of how and when Shepherd will tackle this lofty goal are still being worked out. Shuler, who wrote the white paper on the project and along with Dean Colleen Nolan brought the idea to University President Mary Hendrix, said that the project already has momentum.
The University is performing feasibility studies to determine the cheapest and most efficient way to produce clean energy, store it during off-peak hours, and deliver it to buildings.
"We're looking at what's the best way to use on our campus given our existing infrastructure, systems, rooftops, and land.  Trying to find the most efficient, reliable, and fiscally responsible way to produce renewable energy is important if we're going to make this work," Shuler said.
Potential energy sources being considered include rooftop solar panels, wind power, and hydrogen fuel cell technology. Shuler said that Tabler Farm, a nearly 160-acre University property to the west of campus, is a possible location for a new wind or solar farm.
The University also is considering a composting operation at Tabler Farm that would be used to break down organic waste from campus restaurants and ground management.
Dr. Clarissa Matthews's sustainable development class will be running a study at the environmental studies department's sustainability site to determine what method of composting and at what scale would work best.  Vermicomposting uses worms to break down organic matter, whereas in pile composting the legwork is done by bacteria. In pile composting the heap needs to be turned over periodically to keep the microbes from suffocating.  If the composting operation is at a large enough scale, the piles can be arranged in "windrows" and a special machine called windrow turner could be used to quickly turn and aerate the pile weekly.
Composting food waste will reduce the amount of trash Shepherd produces, and the nutrient rich humus that is produced can be sold or used in gardens on campus in the place of synthetic fertilizers that have been known to be harmful to water quality.
In addition to ambitious large scale projects for producing clean power and recycling waste, Sustainable Shepherd addresses other smaller issues.  A number of potential sustainability initiatives are being investigated by students and faculty in the environmental science program  that include replacing all of the light fixtures with energy saving LEDs and converting portions of lawn to urban meadow.
"In an urban meadow you take grass areas that are very high maintenance, and transform them with perennial plants that don't need to be reseeded every year. That way you reduce the amount of chemical inputs such as fertilizer in the environment and you can help support pollinators…If you stick with native plants then you don't need to water them very much because they are already adapted to the environment," Mathews said.
In Potomac Place, a residence hall under construction, almost all of the lighting fixtures will be energy efficient LED, and all of the shower heads and faucets will be low-flow. Similar fixtures could be installed in other buildings on campus if it is determined that their impact on consumption is significant.
"We need residence life to educate people not to leave the water running or the power on, we need the sports program to practice responsible turf management, we need proper grounds management, and we need proper storm water management," Shuler said.
Demian Nunez is the Managing Editor at The Picket. He can be reached at dnunez01@rams.shepherd.edu