The annual art market sponsored by Shepherd University's art and theatre department will be held Friday, December 7. The sales will be from 3 p.m. until 7 p.m. in the Center for Contemporary Arts/Phase 1 – rooms 112, 113 and 114.
The market was designed as an outlet for art students to sell some of their work and gives them experience in marketing and selling their work.
Sonya Evanisko, coordinator of the painting and drawing program, helped create a class that specializes in marketing work. The art market class teaches students how to create work to sell at markets. This includes pricing, packaging, presentation, and promotion.
There are three classes built into the art degree that deal with professional practices. Students learn how to develop a logo to market themselves, build a website, resumes, and artist statements.
The art market is the final project for the marketing class, but any student can participate. There are usually 30-50 booths set up consisting of students, faculty, and alumni.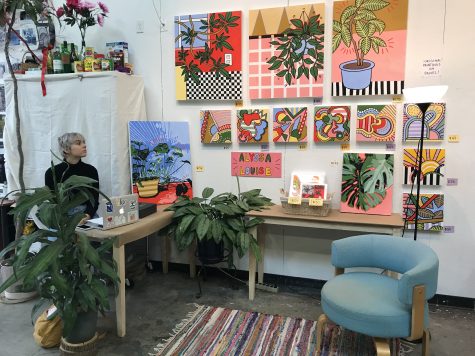 "One of the things we really try to promote with art market is you're supporting local craftspeople," Evanisko said. "This is in the spirit and essence of shopping local and buying unique items."
She added that when you buy local, not only are you supporting the local economy, but you are giving your hard-earned dollars directly back to someone making a living off their work.
"Buy art that sparks a conversation. Typically, when you buy something truly handmade and heartfelt, you know that person's infusing something of themselves in it," she said. "It gives students the opportunity to talk about their work. Most of these are younger, newer artists and these experiences are really valuable."
The art market will have a wide range of art for sale from drawing and painting, to sculpture and jewelry. The department recommends bringing cash as most vendors will not accept credit cards.
"We have a lot of fun," Evanisko said. "It's a fantastic event."