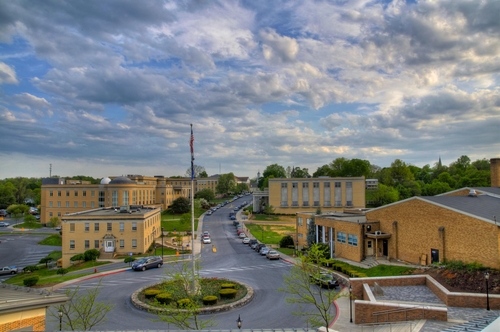 A vast majority of Shepherd University students are bucking national trends and say they plan to vote in the Nov. 6 election.
More than 100 students completed anonymous surveys Oct. 23-24, and 80 percent said they were voting in what has been described as one of the most important midterms in recent memory.
"Statistically speaking, young people don't vote and that's the sad part," said John Isner, a member of Shepherd's adjunct faculty and director of debate and forensics. According to the Campus Vote Project, only 17 percent of 18 to 24 year olds voted in the 2014 elections.
Isner noted he's not surprised that most say they plan to vote, and added, "I would love to see the statistics of people who actually vote after saying this. A lot of the times you have people who say I will vote, or I'll support a certain candidate, but then you go back and maybe they haven't voted or they didn't support that person. I hope they prove me wrong."
All three of West Virginia's congressional seats will be determined in Tuesday's vote. Also, Sen. Joe Manchin, a Democrat who walks a narrow line politically in this state, which cast the largest percentage vote nationally for President Trump in 2016, is up for reelection.
Trump's efforts at rolling back environmental protections in favor of coal mining have proved popular in the state, but a plan that would eliminate guarantees of safe abortions is drawing the attention and ire of young people.
Shepherd students also are bucking statewide trends in political identification. Some 44 of those surveyed say they considered themselves Independent, while 34 said they were Democrats and 23 identified as Republican.
"Most universities lean towards the Democratic side when it comes to students, that's what we've seen," Isner said. "But Shepherd's always been kind of its own place, right?"
"I like that they're all so close. I think it's cool that Independents outnumber Democrats and Republicans here, because you don't see it all the time."
Almost a quarter of the survey respondents mentioned Amendment 1 as their biggest concern. The proposal would remove any guarantees for abortions in the state. The opioid
epidemic got 14 mentions among surveyed students, followed by jobs or the economy with 12 mentions.
The Rockwool insulation factory to be built in Jefferson County received 10 mentions, coal and the environment were mentioned seven times each, voting rights was mentioned by five respondents, and health care was mentioned four times. Just three students said they were concerned about corruption in government.
"Obviously we're in Jefferson County, and so it's not surprising to see things like Rockwool," Isner said. "It's not surprising that, we're in West Virginia, to see things like opioids. I think these are the things that we've seen a lot of when it comes to this election
itself in West Virginia and in Jefferson County."
Isner said he was surprised students didn't rank government corruption and jobs higher. "I'm also a little shocked to see for people coming out of school, jobs not being higher," he said.
Pointing out that 60 percent of students surveyed said they were familiar with candidates
and the issues on the ballot, Isner noted that in general more people are motivated to head to the polls next week. "Whether or not you're on the right side or the left side or in the middle, I think people are either really happy with how things are going or really upset about the way things are going," Isner said. "It's a very polarizing time."
"The best thing that you can do is be an educated voter. Who has the best interests in mind for you. Who wants you to help the state get better," Isner said.
"It's about checking the box with the name that you want to see as the next person who represents you and I think that people need to take that extremely seriously, and value it a little bit more. The ability to vote is the only reason why we have the democracy we have. If we continue to do things like stay stagnant and not vote, we don't see the change that maybe we want to see. So I think that voting is probably one of the biggest rights that we have."