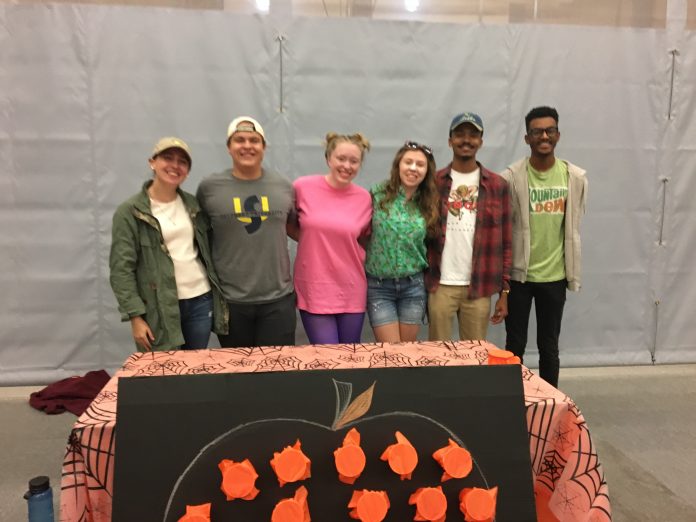 Everyone wants to get into the Halloween spirit, and Shepherd University students are no exception. That's why Shepherd University organizes Shep-or-Treat. An annual event that allows everyone in the community, not just Shepherd Rams, to get into the Halloween spirit.
The School's Literary Journal, Sans Merci, gave out candy and took pictures. They gave trick or treaters the opportunity to 'Pin the Nose on the Shakespeare.' The 42nd edition of Sans Merci will be released in spring 2018. Prose or poetry can be submitted for consideration until the end of the 2017 fall semester. For more information, please email sans.merci@gmail.com.
The Robotics Club President Hezeki Ross attended Shep-or-Treat. Ross was there to promote the 2018 ShepRobo Fest. ShepRobo Fest is a robotics competition that tests a robot's strength and intellect. Some robots will be entered in a battle to destroy another robot. The event will be held at the Butcher Center on April 1st.
Pi Kappa Lambda, the music honor society, had a prize wheel that the trick-or-treaters took turns spinning. If the wheel landed on a certain color, the trick-or-treater won a prize. This Friday, the music department will present its fall Choral Concert 8 p.m. Tickets are sold at the door. The prices are $15 for an adult, $10 for Shepherd faculty, and students get in for free with their Rambler ID.
From left to right)Kristin Williams, Garret O'Connell, Jillian O'Connell, and Chris Parker.
The dormitories also participated in Shep-or-Treat. Shaw Hall gave out free face paintings and homemade goodies. Thatcher Hall held a kid-friendly Halloween party.
In total, the event was attended by 30 on-campus organizations. To learn more about events on-campus, please visit RamPulse at Shepherd.edu under Current Students.