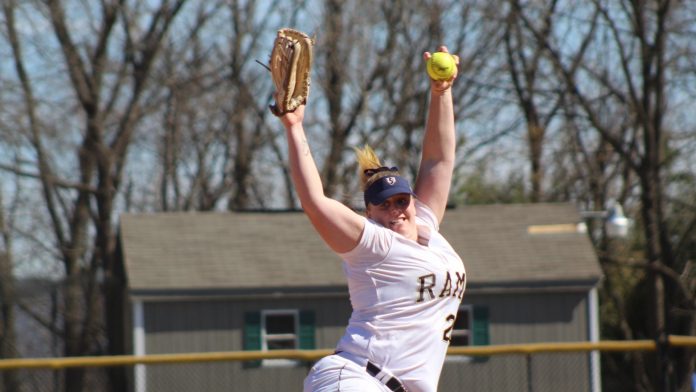 Shepherd Softball (17-5) swept Millersville (14-15) 2-0 Wednesday afternoon in a double-header matchup behind the stellar pitching of junior Taylor Stocks and senior Lori Sturgill.
In the first game Shepherd got off to a hot start with a two-run single by Leann Brown, scoring Nicole Purtell and Kaitlyn Konopka. Sturgill brought Brown home by hitting an inside-the-park home run, making the score 4-0 at the end of the first inning.
Sturgill would homer again, this time out of the park, in the third with a two RBI shot to left field. The scoring would be capped off in the fourth with RBI singles by both Purtell and Rachel Taylor.
The Crusader offense couldn't get anything going against the stout pitching by Stocks, who allowed zero hits with only two walks and 10 strike outs.
Stocks performance was the 12th no-hitter in Shepherd Softball history, but it was her second in the last two weeks.
The Rams ran off with an 8-0 victory after five innings of play because of the eight-run mercy rule.
In the second game of the afternoon the Rams picked up right where they left off. Stocks hit an RBI single in the second inning. Gilligan hit a two RBI double in the fourth, and later scored on an error, making the score 4-0.
The Crusaders were still searching for answers on offense. They hadn't recorded their first hit until the top of the fourth inning.
Sturgill pitched four scoreless innings while only allowing one hit before she was relieved by Sarah Lamper.
In the seventh the Crusaders would load the bases with no outs. Lamper struck one batter out but gave up an RBI single the next at bat. Lamper would collect herself and retire the final two batters with a strike out and a pop out.
The Rams are back in action Saturday as they host Wheeling Jesuit at 1:00 p.m. for another double header.
 Frankie Stevens is a Sports Writer for the Picket, he can be reached at: fsteve02@rams.shepherd.edu