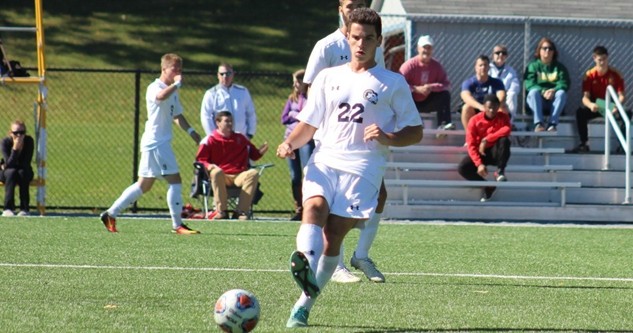 Vaughn Brewer, Sports Reporter
The Rams (0-2-1) took on the Seton Hill Pirates (2-0-1) Thursday afternoon in Greensburg, Penn. Unfortunately, the Rams could not secure their first victory of the season, as they fell 5-0.
From the outside looking in, the Rams looked like they were outmatched in Thursday's contest, as both offenses were on different levels. An eye-popping statistic shows that in the first half alone, the Pirates had 16 shots on goal compared to Shepherd's three.
Due to the high volume of chances, the Pirates got out to a quick 3-0 lead by the 18-minute mark. A 5-0 loss may seem like the goalie had a terrible game but when you consider the volume of shots Rams goalkeeper Jacob Dougal saw come at him, it's surprising he didn't let in more goals.
There were three goal scorers for Seton Hill in the first half alone, with forward Tom Urquhart, midfielder Alex Dyson, and Henrik Berg netting the goals for the Pirates.
In the second period, it was much of the same between the teams, as Seton Hill scored an additional two goals within 10 minutes of the second period start.
Shepherd fouled Pirates attacker Louis Mason inside the penalty area, which led to a penalty kick. That was the first of two second half goals for the Pirates, with Berg notching his second goal of the game just five minutes after the penalty kick
This game was a shutout that was physical for much of the contest. Altogether, there were 27 fouls between the two teams, no red cards were handed out.
There is not a ton of positivity to take away from this game on the Shepherd side of things besides the fact that it is the beginning to a long season.
After the game Shepherd Rams head coach Alexander Jones gave a few thoughts on the game.
"We were not outmatched at all," he said. "We just did not execute our game plan we have been practicing, plain and simple. We need to keep working on perfecting what we do best and prepare for our first conference game this Sunday against Wesleyan."
The Rams still have ample time to recover and turn things around, and that starts on Sunday afternoon Sept. 10, as they take on West Virginia Wesleyan in the first home game of the year.
Vaughn Brewer is a Sports Reporter for The Picket. He can be reached at vbrewe01@rams.shepherd.edu