(THE PICKET)- The Rams fell to out-of-conference Millersville University 20-16 on Tuesday at Ram Stadium. This loss puts the Rams at 4-9 overall on the season.
Millersville had an 11-7 lead going into halftime and the Rams were unable to dig their way out of that hole.
Erin Phelan had nine points with six goals and three assists. Courtney Matthews added three goals and an assist while Brooke Hunley scored three goals.
Haley Price added two goals and an assist for the Rams while Hunter Morris and Sarah Wendt recorded one goal a piece.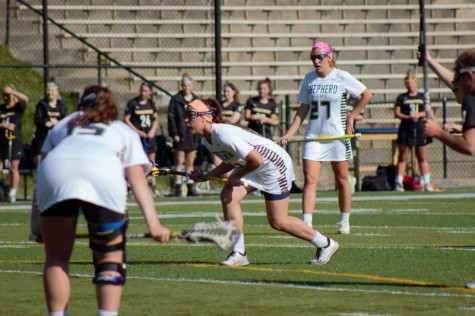 Savannah Shores recorded eight saves for Shepherd.
Although a tough loss, some gains came out of the day as well.  Phelan had a career high with her nine points on the game. Another mark was made by Morris who scored her 100th goal against the  Marauders.
The Rams return to play on Friday when they travel to Notre Dame for a 4 p.m. game.