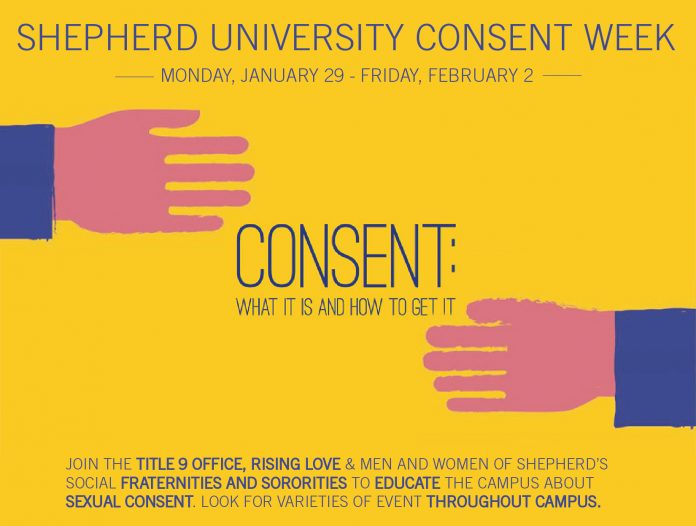 As the number of campus assaults mounts nationwide, Shepherd University is taking steps to promote a campus culture that protects a person's right to consent.
"It is so important for us to have this effort on our campus because in the U.S. an average of one in five women and one in 16 men are sexually assaulted while in college. We believe every student has a right to be successful in college without their lives being affected by interpersonal violence," said Molly Lovern, an intern working for Title IX.
Beginning Monday, students will be able to participate in a number of events sponsored by Greek Life with organizational support from the Title IX office. The men's and women's basketball teams also will be participating.
The events are as follows:
Tuesday Jan. 30: Consent Week Healthy Relationships (Rams Den 10 a.m.-2 p.m.) – Greek Life volunteers will lead a program on healthy relationships with activities and giveaways.
Thursday Feb. 1: Consent Darts Table (Rams Den 10 a.m.-2 p.m.) – Greek Life volunteers will lead an event with condom darts and prizes and educational opportunities.
Thursday Feb. 1: Green Games (Butcher Center 4:30 p.m. and 7:30 p.m.) – The women's basketball team and men's basketball team will be playing in the "Green Games" in solidarity with an effort to end interpersonal violence on campus. The crowd is encouraged to wear green and there will be consent activities and opportunities throughout the night.
If you or someone you know is a victim of sexual assault there are resources available at http://www.shepherd.edu/victim-resource-center
The National Sexual Assault hotline is available 24 hours a day: 1-800-656-4673