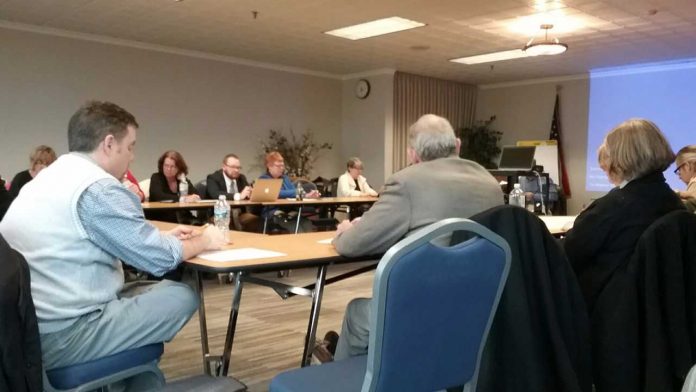 Shepherd University's faculty Senate voted unanimously Monday to oppose a proposal pending in the West Virginia legislature that would allow guns on state university campuses.   
Some 14 members of the Senate voted to oppose the idea of guns on campus. The faculty resolution stated that "firearms in the classroom are counterproductive to an open, effective learning environment, and they create an "inherently dangerous environment and could negatively impact recruitment of new students…and retention of current students as well as hiring and retention of staff and administrations."
Shepherd's Senate vote was in response to a request by the state Advisory Council of Faculty. The council is seeking to present a unified voice of opposition to the state legislature on the idea of guns on campuses.
The measure, introduced in February in the West Virginia state legislature, is pending in the state House Education Committee. It currently has 11 sponsors: three Democrats and eight Republicans.    
The bill would permit those with permits to carry concealed deadly weapons and bring them to state campuses. It would not allow guns in all campus buildings, and would prohibit them in buildings designated as no-carry zones by universities.    
Under the proposal, universities would have to provide weapon screening and armed guards at these building entrances. Guns also could be prohibited in university buildings that are the site of events for the paying public. This provision in the bill was also mentioned in the faculty resolution, stating that the costs of securing buildings for events was too expensive.  
Dr. Christopher Lovelace, faculty Senate president, said that concealed carry laws elsewhere have sparked several faculty resignations.    
Dr. Max Gurguis, a faculty senator representing the political science department, urged his colleagues to oppose the idea of concealed carry on campus. "It's difficult [enough] as it is to keep campus safe," he said.   
Dr. Rhonda Hovatter expressed doubt that taking a stand against the House bill would stop its passage. "Even if laws are in place, there is still gun violence," she said.   
Currently, 10 states permit guns on state university campuses. Advocates of campus carry laws say they could reduce mass shootings on campus, while opponents argue it would boost the number of campus shootings.  
Anthony Bracken is the Managing Editor of The Picket. He can be reached at abrack02@rams.shepherd.edu