A campaign to make Shepherd University a smoke-free campus is underway as plans are made for students to vote on a smoking ban.
Just five of the 33 universities in West Virginia are smoke-free. In recent years, Shepherd has put up signs requiring students remain at least 20 feet away from buildings while smoking, yet with limited success.
"The signs don't really change a thing," said Dennis Greene, a biology major and a smoker. "People smoke by the Rams Dan on the benches out front. Those are not 20 feet away. I don't think they're even 10 feet away."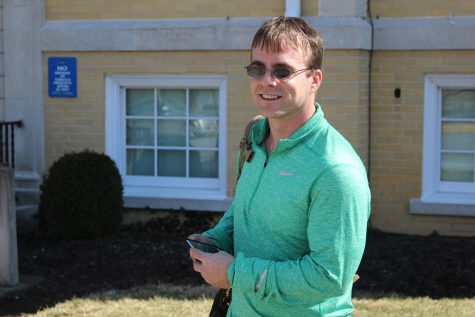 Staff and students were surveyed last fall about their smoking habits as part of a grant-sponsored university coalition, Take STOC: Smoking and Tobacco Off Campus. The survey results are part of a university-wide assessment for future health promotion programs and policy recommendations. The coalition is funded by the American Cancer Society and CVS Tobacco-Free Generation Campus Initiative grant. It is sponsored by the Division of Student Affairs through the Shepherd Student Health Center.
Paul Hvosdovic is the director of the graduate program at Shepherd University. Before spring break, he organized voting sessions for faculty of Shepherd to vote on whether they'd like a smoke free campus.
"The faculty have voted unanimously against smoking," Hvozdovic said. "We are planning on holding student ballots so students at Shepherd can show whether they want the future of this campus to be smoke free, too."
Director of the Student Health Department Becky Boehler is still looking for students that smoke to sign up for her class that is intended to help them quit.
The five universities in West Virginia that are smoke free did so by a vote from their board of directors. Dr. Timothy Shilton is a former Mathematics professor at Marshall University and now serves as a member of the board of directors
"The Marshall University Board of directors voted unanimously for a vote to end smoking on campus," Shilton said. "We had no idea it was something students wanted. The best way to make Shepherd a smoke free campus is to make sure that your officials know that you want it. The best way to achieve that is to campaign."
Hvozdovic and the Shepherd University Tobacco Free Grant Initiative Committee will post dates for the student poll for tobacco use on campus. For updates and more information, please visit www.shepherd.edu/tobaccofree.