(THE PICKET)- Dr. Carl F. Bell, Professor Emeritus of Biology and Shepherdstown resident, died Monday, March 20. Bell was a retired Shepherd University professor, having taught from 1961 until 2015. This morning Shepherd paid him tribute on Facebook, citing an article from Shepherd Magazine, which was published when he retired.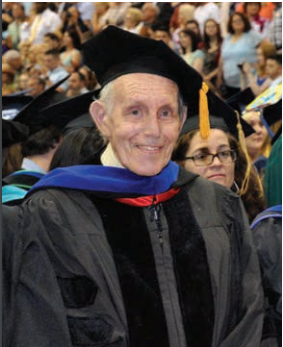 Bell was noted for his enthusiasm in the biology department, his hobby of watching flying squirrels, and for giving his classes hands on experiences by taking them for walks along the C&O Canal to look at the mash habitat. Shepherd Magazine's article stated that Bell was the longest serving employee Shepherd had ever had.
Bell's retirement was noted on rate my professor, a place for students to anonymously give opinions of professors, with sadness and appreciation.
A 2009 Alumni on rate my professor said, "learning Dr. Bell has finally retired saddens me. He is the most brilliant individual I have had the pleasure of ever knowing. I took as many classes (6) as possible, for the pleasure of learning everything he had to offer. His bone dry humor is fantastic. Thank you, Dr. Bell, for your decades of service."
A student from 2014 also stated that Bell's classes were "an amazing experience that will stay with you forever."
To honor Bell, the University has dedicated an endowment fund for the study of Biology, as well as a lab in the Byrd Science Center building to his name.
According to his obituary, a set of visitation hours will be held on March 24, at New St. United Methodist Church, in Shepherdstown from 6 to 8 p.m., with a memorial service at the same location, March 25 at 1:30 p.m.
Online condolences may be offered at www.BrownFuneralHomesWV.com