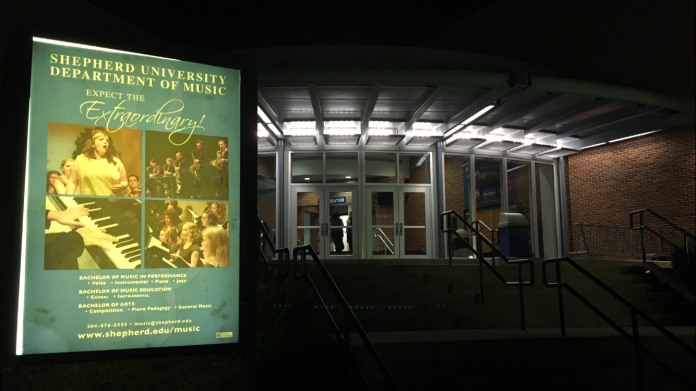 The Shepherd music department began its fall concert by presenting a new Steinway grand piano guaranteed to last the department up to 100 years. Shepherd University is now the first school in West Virginia to become a Steinway Scholarship sponsor.
The concert began with two songs from the Washington High School Camerata Chamber Choir. Washington's music program has taken home multiple awards in the past two years. They sang two pieces.
The first was "Entreat Me Not to Leave You" by Dan Forrest. Forrest based the lyrics off of the Hebrew book of Ruth and says it is, "a tribute to love."
The second piece was an acapella adaptation of Albert Hammond's 'I'm a Train.' Hammond wrote the song with his writing partner Mike Hazelwood in 1976. It was first performed on Hammond's second single, "It Never Rains in America." The Washington Choir performed the song with synchronized movements and a train whistle.
Once Washington finished, the Shepherd Women's Camerata took the stage. They performed five songs. Julie Wyrant, a conducting student at Shepherd, conducted the first piece called Wondrous Love. The song was arranged by John Jacob Niles. Niles is best known as the "Dean of American Balladeers" and was a great influence on performers during the American Folk Music Revival of the '50's and '60's.
Dr. Rachael Carlson conducted the next four pieces. She began her section with Domine Filli Unigenite by Giovanni Pierluigi da Palestrina. The piece was written with the intention of the listener imagining themselves walking into a cathedral.
Next on was the men's chamber choir. They were conducted by Dr. Rob Tudor and performed four songs. The third song they performed was "Fields of Gold" by Sting. Sting said that the song is about "A man who has broken promises before, but is determined to make the relationship last."
Last on stage was the full chamber choir. They sang four songs, two of which were conducted by students. The second song, "Northern Lights," was conducted by senior Simone Reynolds. The fourth song, "If Music Be the Food of Love," was conducted by Samuel Bowers, who also sang a brief solo in the third song, "Mata del Anima Sola."
Later this year, the Shepherd music department will be performing at the International Chamber Choir Competition in Spain. To learn more and receive updates, please visit www.shepherd.edu/music.