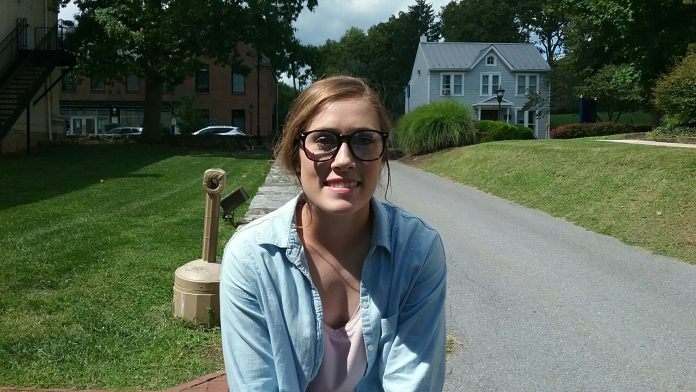 Taylor Harwood, a senior midfielder/forward on the Shepherd women's soccer team, sat down with The Picket to talk about her goals for her senior year on the field, and what she plans on doing after her time at Shepherd is over. 
Harwood, a fitness and exercise science major, is from Capon Bridge, West Virginia. Her passion for the game of soccer derives from her father, who played the game himself. Mr. Harwood coached Taylor her whole life before she got to Shepherd. 
In 2016, Taylor was named to the All-MEC Academic Team (3.7-4.0 GPA), and takes a great deal of pride in having done so. She works very hard and is particularly strict with her time management. Harwood really believes in taking advantage of the opportunities she has to get her work done in a timely fashion that will enable her to get good grades.  
Reflecting on when she first set foot on campus as a freshman, Harwood wishes that she would have enjoyed everything more because everything goes by so quickly. Taylor has been a captain on the women's soccer team since the spring of her freshman year (2014-2015). At first, she preferred to lead more by example, but saw early on that she needed to do something different. As time went on, Harwood spoke up when necessary to get her team on the right track. 
When Taylor's time at Shepherd is done, she plans on going to physical therapy school to hopefully one day become a physical therapist. Later on in life, she hopes to own and run her own practice.  
In terms of how Shepherd has prepared Harwood for her future in the fitness and exercise science field, she feels that Shepherd has taught her to open up more and speak to different people that she would not have before. She also believes that Shepherd taught her how to be a better leader. 
Watch the video portion of the interview with Taylor below to learn how she wants her teammates and coaches to remember her when she leaves the field for the final time, in addition to why she chose her field of study.  
Anthony Bracken is the Sports Editor of The Picket. He can be reached at abrack02@rams.shepherd.edu