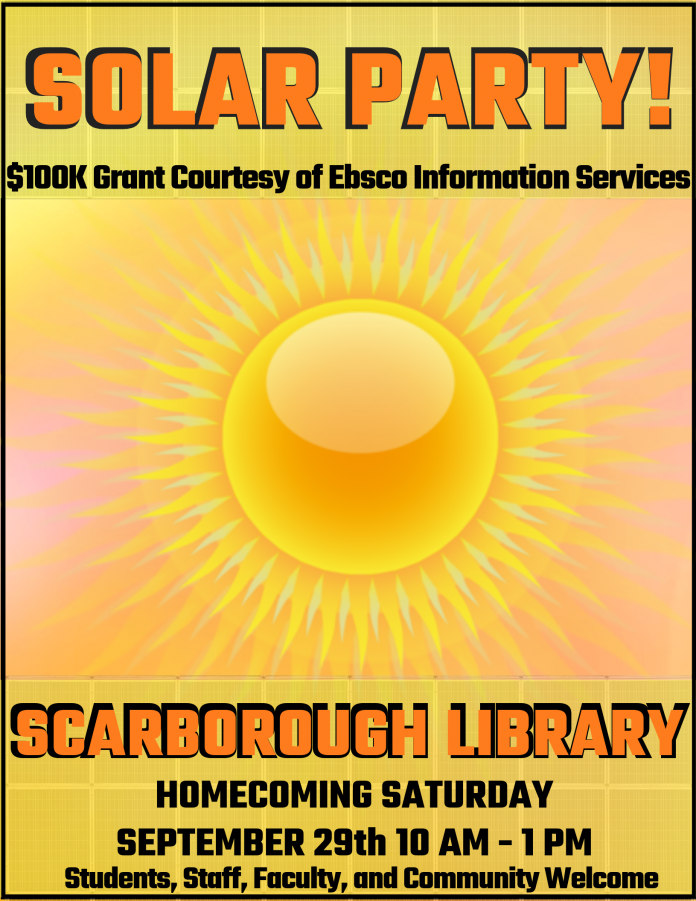 The Scarborough library has won a $100,000 grant for installation of solar panels on the roof.
A solar party is set for Saturday, Sept. 9 from 10 a.m. to 1 p.m. at the library. All students, staff, faculty and community members are welcome.
The grant, secured by assistant librarian Rachel Hally and associate professor Jeff Groff, will fund 60.55 kW of solar photovoltaic (PV) panels on the roof. The solar panels will produce approximately 67.5 thousand kilowatts of electricity each year and will save the library about $3,400 in electrical costs yearly.
The grant was provided by EBSCO Information Services, a division of EBSCO Industries Inc. EBSCO Information services provide databases, ebooks and magazine subscriptions for libraries around the world, including Scarborough. In the application process Hally and Groff highlighted Scarborough's movement toward becoming more environmentally friendly with its recycling program and new water bottle filling station. The library's flat roof made it a good candidate for installation.
"There are so many programs going on at Shepherd right now that are focused on sustainability in some of the academic programs that I thought it would be a really nice opportunity to bring a new technology into our campus community," Hally said, "It cannot only benefit us environmentally and economically but also provide an opportunity for students to learn about the technology, environmentalism and conservationism.
Once implemented, Scarborough will have the largest solar panel installation in Shepherdstown. The staff of Scarborough hope to lead by example in making the library as sustainable as possible. In recent years Shepherd has cut electrical use by between 15 and 20 percent. For a demonstration of how solar panels and other environmental friendly technologies work, Shepherd's Institute of Environmental and Physical Sciences has a sustainability site that offers demonstrations in technologies and applications.