Shepherd University students were challenged Thursday to be leaders and reach out to others to help them achieve their dreams.
"I want you to be responsible for what you believe in," said associate sociology professor Dr. Chiquita Howard-Bostic. "Take a good look at the people next to you. I need you to be responsible for what they believe in too. Help one another achieve your goals."
In the second Rams Rally for Respect, Howard-Bostic handed out heart-shaped pins to students on the lawn that said honor, respect, love, compassion, responsibility or hope.
"Being a leader means both inside and out," she said. "It's everything you do. Don't say one thing and in your head, be thinking another. A true leader steps up to the plate."
Many rally members were from various on-campus groups. One of them was Molly Lovern, a member of Rising LOVE (Leaders Objecting Violence and Promoting Equity) and a coordinator of the event.
"We reached out to the community and the student body hoping to unite them in one cause." Loven said.
Rally members marched around Rams Stadium toward the Wellness Center holding up signs in support of Black Lives Matters and Transgender Activism.
Another student, Lucia Raymond, came as a member of her sorority, Delta Zeta.
"I came to meet other students who have the same ideals as me," she said.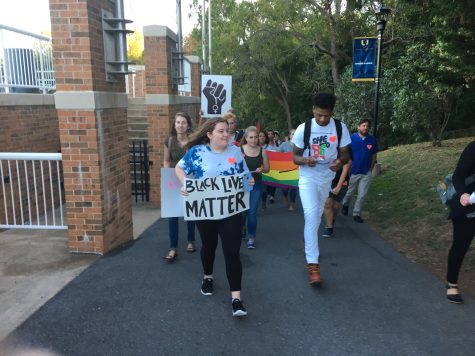 They continued marching past Shaw and Thatcher Hall chanting words like, "Whatever we wear, wherever we go. Yes means yes and no means no!"
There also were students who came with no particular group in mind such as Hannah Rumbaugh.
"I think this event will show that we are united because it shows us all walking together as one across campus." Rumbaugh said. "Fighting things like racism and sexism. It shows that we can all come together as Rams to stop injustice."