SHEPHERDSTOWN—On Monday, members of local protest group Vigilance Jefferson County gathered in Shepherdstown to protest against President Trump and stand for the Black Lives Matter movement.
"This is a really organic and spontaneous protest," says Patience Wait, a member of Vigilance. "We out here because our local representatives aren't being responsive to us…particularly with Republican representatives, they'd rather ignore us or call us paid protestors."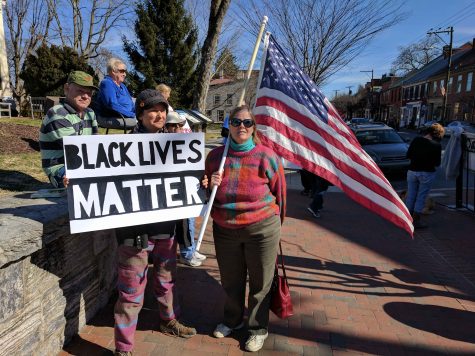 The protest was organized by Fran Brolle after she researched the topic of police brutality and the Black Lives Matter movement. "We were terribly distressed by the number of black people being killed by police officers," says Brolle.
Protestors cited a variety of different reasons for why they decided to come out on President's Day.
"I'm here because all lives truly matter to me," says Marc Alain Petitpierre, of Jefferson County. "There's only a few cops…these terrible cops…who are making it bad for all the good cops out there."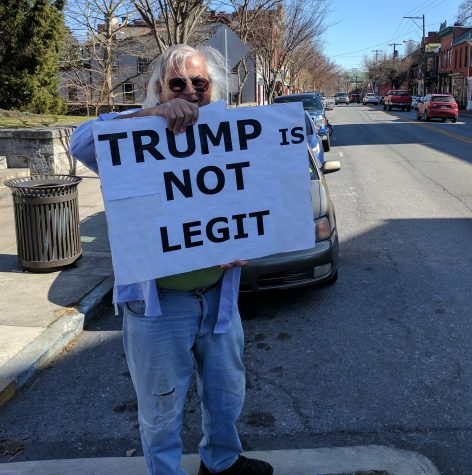 "This is personal for me," says Rennae Irons, "I'm here for my beautiful daughter and family…having brown skin makes them targets. They've had to work so hard for the things that come so easily to us white-skinned folk."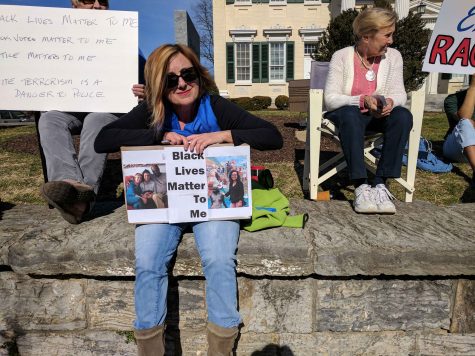 "If you have any dark skinned family members or close friends," says Dr. Zakee McGill, a member of the Berkeley County NAACP, "then you're aware of what they're up against. If you're not angry about it…it's because you don't have any skin in the game, because you don't have anybody that you personally relate to that's in that danger."
It wasn't only members of the Vigilance group who turned out to protest. The protest grew throughout the day as students and Shepherdstown locals decided to join in spontaneously.
Winnie Bernat, a former teacher at Shepherd who helped Brolle organize the protest, loves seeing students come out and support protestors. "It's so nice to see students here, I really appreciate the students at Shepherd who come out for things like this."
"I'm here representing the Shepherd University Democrats," says Haven Silvio, a freshman nursing student at Shepherd University.
"This is important…if we want to make a difference or have an impact, you have to come out and actually do this," says Claire Tryon, a freshman in psychology at Shepherd. "If you don't do something about it, you show that it doesn't mean as much to you as you say."
For more videos, subscribe to The Picket on YouTube