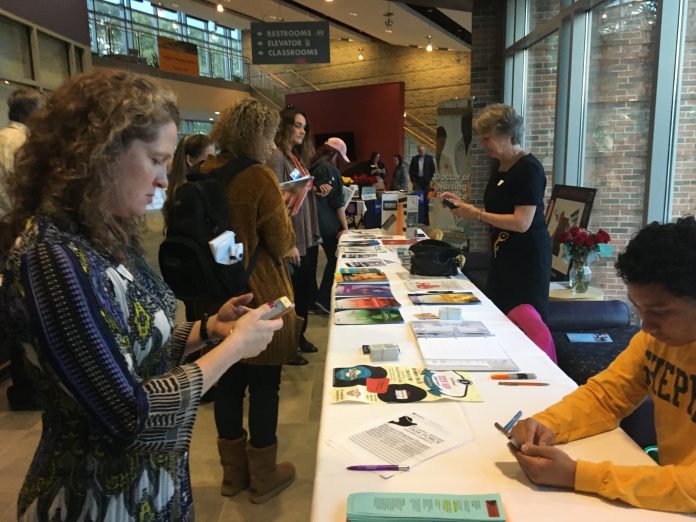 Many would question why Shepherdstown needs a Human Trafficking Task Force. The crime of human trafficking is viewed by most as only prevalent in large cities. However, crime reports may say otherwise. It is estimated that there are 232 phone calls made every year to the West Virginia Human Trafficking Hotline.
In response to these statistics, the Shepherd Human Trafficking Task force held the second Human Trafficking teach-in, featuring community members dedicated to preventing human trafficking.
Sgt. William Garret has been assigned to the Crimes Against Children Unit since 2010. In 2016, Garret organized the largest Undercover Chat Operation to be held in West Virginia. The operation uncovered seven online sexual predators across county and state borders.
Statistics show that the average human trafficking victim is an adolescent girl between the ages of 12 to 14.
"We need to quit using the term teenage prostitute," Morrisey said. "These are victims of a crime. No matter what led them to do it. Whether it be willingly or by force."
James Robert Leslie, who serves in the office of West Virginia Attorney General Patrick Morrisey's civil rights division, said his primary task is supplying education on domestic violence and human trafficking to police departments across the state.
Leslie has represented his office on the West Virginia Civil Rights and Anti Human Trafficking Task Force where he works with agents from the FBI to better understand human trafficking.
"Human trafficking is, in the end, a business," Leslie said. "It does not run on a need or want or desire. It runs on money. Therefore, the only way to prevent human trafficking, is to cut off its funds. If there's no money coming in, then there's no need for it."
Leslie recommends those who wish to make a difference to look up more about their own human trafficking footprint. Websites such as slaveryfootprint.org can track which products are produced using forced labor.
If you suspect there is human trafficking occurring in your area, report it by calling 1-800-3737888