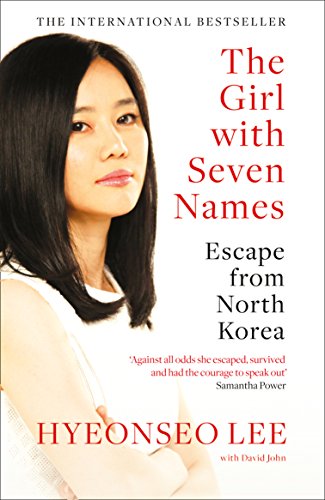 A North Korean defector told a standing-room only crowd at Shepherd University Monday that her dream for her communist country is to join the rest of the free world.
Hyeonseo Lee, author of "The Girl with Seven Names," recounted her escape from the deprivation and propaganda of her homeland with pictures of hardships common in North Korea including starvation, public executions, and propaganda shown on a screen behind her in the Frank Center.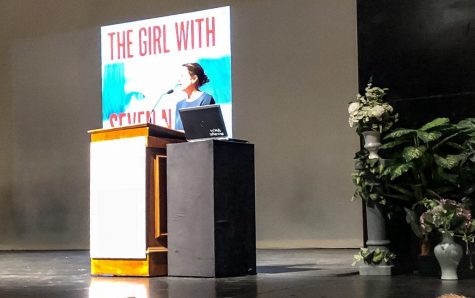 When showing the one personal photograph in the slideshow, Lee stated, "This picture is the only picture I have from North Korea because we had a huge fire when I was young, and my father who was a military official…he was not able to see my brother or me or my mom were okay at the time, but he just immediately ran inside the fire and he risked his life to save our most important possessions," Lee said pointing to what she said was her only personal photograph left from her life in North Korea. "It was a few portraits of the dictators, which are required to hang in every person's house. If my father had failed to save them, he would have been punished, but he was praised, not for rescuing his own children but for saving the images of dictators."
Since her escape, she is devoting her life fighting for others to find freedom. She also hopes for the ability to go home, which she said she can never do unless she is forced back to publicly recant her story in Pyongyang.
Lee's escape wound through China and eventually South Korea. Racked with guilt at not having seen her mother and brother in over a decade, she attempted to smuggle them out of North Korea through China and Thailand. Their fate was determined by a good Samaritan who paid the bribes and fines to set her family free because they were caught and imprisoned en route.
"He was Australian and was traveling in Southeast Asia at the time,," Lee said. "He heard my story, and went straight to the ATM and he took out a ton of cash against his credit cards, and then we visited the prison together and not only he was releasing my family, but three other North Korean defectors…So at the time I asked him 'Why are you helping me? He said, 'I am not here for you, I am here for the North Korean people.'"
Lee's story is one worth knowing, especially in a time where immigration is a hot-button political issue because it forces everyone to confront that real people are affected by these decisions.
The earliest part of her talk parallels a significant portion of her book in which she discussed her upbringing. She was relatively comfortable in North Korea, at the upper end of the social strata, she said.
Yet life was still difficult, she said. Lee described witnessing public executions as a 7-year-old girl and described growing up under indoctrination that paints the world, especially America, in a negative light. She grew up believing that the economic and social hardships faced by North Koreans were due to the sanctions imposed on their country by America, she said.
What was most enlightening was the reference, possibly in jest, "In North Korea, we don't have the word, American. We only have one word 'American bastards.'"
"From kindergarten we learned that Americans were our primary enemies, who killed many innocent North Korean citizens during the Korean War," Lee said. Using this as a basis for the rest of her talk, and in her book, her story became one of disillusionment and of coming to terms with the realities of the world.
While serious matters were discussed, the overall feel for the night never became depressing or preachy. It was an educational experience. Lee discussed how any action seen as illegal could condemn up to three generations of a family in North Korea to imprisonment. Her own father, who was under investigation, ended his life when she was young. When asked about her father, she answered, "The reason he killed himself was in order to protect our family. If he had not killed himself, we might have faced a prison camp, probably."
Children are expected to learn the names and details of their leaders' lives before their own families, she said. The overall theme was that North Koreans grow up isolated from the rest of the world. Outside media is banned and travel outside the country, even across the very close border into China, is illegal.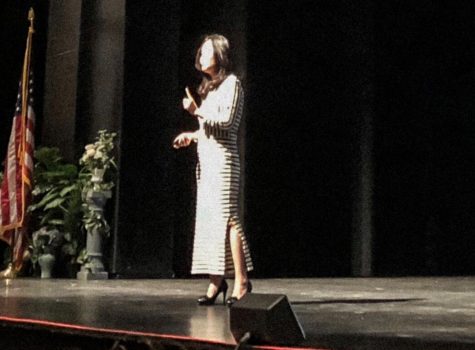 Lee's tale as a refugee, first in China where she faced constant fear of discovery and subsequent imprisonment, is a daunting one.
"Hiding in China, I was constantly hunted by Chinese government officials, simply because I was a North Korean defector, and three years after I arrived in China I was finally captured by Chinese police and they put me in a serious interrogation…because they wanted to check whether I was Chinese or not," she said.
If she had been extradited to North Korea,, she said, "I would be in public execution and my family, of course, they will end up in prison and I will ruin their lives." She had to change her name so many times to avoid arrest. This is where her international bestselling memoir got its title.
"So many North Korean defectors…they are carrying poisons with them, because, in case they are caught in China they would rather kill themselves than be extradited to North Korea and suffer with their families for the rest of their lives," she said.
She was one of the lucky ones, to be among family and not have to deal with human traffickers, although she did have to escape an arranged marriage.
"Of those who escape the country, most are women and many of them are not fully aware of the dangers they face when crossing the border into China," she said. "They are often relieved they can earn some money to support their families, but in reality they are sold as sex slaves and treated like merchandise."
She recounted her own near miss in a brothel where she had to outsmart the madam and make her escape, which she did in less than 24 hours. "I will never forget the woman's terrifying face as she taught me how to give a massage to a man…She said this is another kind of prison you can't escape."
If you have the time, the book "A Girl with Seven Names" is worth a read. It is well written and almost inspiring, while at the same time, relevant. If not, try to find 10 minutes to view the TED talk Lee gave in 2013. The link is below:
Hyeonseo Lee Ted Talk

"Leaving North Korea is not like leaving other countries, it is more like leaving another universe. I will never truly be free of its gravity, no matter how far I journey."