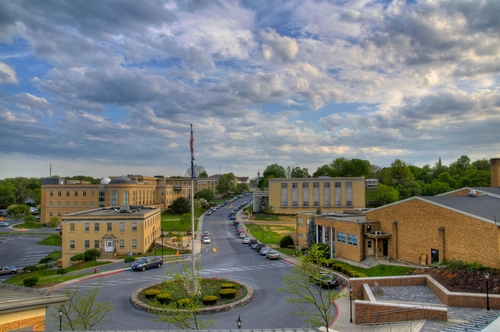 Danielle Stephenson and Allison Lott were named the new president and vice president, respectively, of Shepherd University's Student Government Association (SGA) for the 2018-2019 school year as a result of the recent SGA election.
Stephenson, via email, explained how joyful she was to get the good news that she was elected as the new SGA president.
"I am incredibly honored to have been elected as SGA President for the 2018-2019 academic year!," Stephenson said. "Ever since I started here at Shepherd, I knew that I wanted to become involved and do whatever I could to help my peers be successful. Now, I am able to do this on a much greater level and I am immensely humbled."
Lott, via email, displayed admiration for being named the new SGA vice president, while citing commitment and perseverance as key factors in helping Shepherd University's clubs and programs run successfully.
"I am extremely proud and honored to have been named the 2018-2019 SGA Vice President," Lott explained. "It is a position that means so much to me already and to the entire school. I have been involved with SGA for three semesters now and my love for student government has only grown stronger throughout my time here at Shepherd. It's going to take plenty of hard work and dedication to help Shepherd University and all of its amazing clubs and programs run successfully. However, it is a task I am more than ready and willing to give my full attention. I can't wait to officially start with my role as SGA Vice President and make the 2018-2019 school [year] a great one!"
Stephenson additionally expressed her desire to have departments on Shepherd University's campus to work together while serving as the new SGA president.
"As SGA President I would like to strengthen channels and ties to departments on campus as well as continuing to create a welcoming environment for commuters," Stephenson explained. "Another focus of mine is having more clubs and organizations join the SGA senate so they may be guided through their goals and have the support they need to hit the ground running."
Helping students and their families have increased access to financial aid resources and providing transfer students more outlets to help them in their scholastic endeavors are other chief goals of Stephenson while serving as the new SGA President.
"I plan on creating greater accessibility to financial aid resources for all students and working to promote the need for greater transfer student resources," Stephenson said. "The goal I am most excited for is to bridge the gap between West Virginia and surrounding states high schools and Shepherd. It is my absolute priority to promote the excellence that Shepherd University offers every student!"
Lott wants to assist students in any way possible to help make their experience at Shepherd University as enjoyable as can be.
"As SGA Vice President, I am really looking forward to the continuation of addressing as many student concerns as possible," Lott said. "There is no concern of the student body that is too small or trivial to not be dealt with seriously. I believe that everyone on this campus has a voice and anything can be improved. I am also looking forward to try and encourage as many students as possible to get involved with something that they're passionate about. Whether that be Greek life, a science club, or even student government, the sky really is the limit!"
Both Stephenson and Lott will begin their quest to help the SGA accomplish all of these goals when the 2018-2019 school year starts this fall.
Anthony Bracken is the managing editor of The Picket. He can be reached at abrack02@rams.shepherd.edu